Carl is the new Brawl Stars brawler who just released in the upcoming huge March update a few days ago!
In this article, let's take a quick look at Carl abilities, stats and the best tips for using him!
[toc]
Carl's Basic Information
Basic Information

Type: Ranged Brawler/Penetration
Super Duration: 2.4s
Attack Range: 8 tiles
Speed: 2.5 tiles per second
Attack Reload: 1.9s or less

Role: Map Control; Splash Damage
Attack Radius: 1.5×1.5 tiles
Rarity: Super Rare

Star Power: Power ThrowCarl throws his Pickaxe with more speed, allowing it to travel faster and return faster.
Matchups
Great Vs
---
Not Good Vs
---
Carl – A Quick Look
Rarity: Super Rare
Main Attack: Pickaxe
Carl has only one ammo slot. It will get instantly charged when the Pickaxe returns to his hands.
The Pickaxe returns whenever it hits a wall or when it reaches the max distance.
The Pickaxe pierces through all of the enemies.
In Brawl Ball, kicking the ball does not consume Carl's ammo
Super Attack: Tailspin
When you use the Super, Carl increases his speed and whirls his Pickaxe in a 360° radius, dealing damage to the enemies nearby.
Star Power: Power Throw
The Star Power increases the flight speed of the Pickaxe, allowing it to travel and return a lot faster, thus increasing his DPS.
Quick Tips
Road Rage Carl has just get released and I believe that people might want some more tips for Carl to maximize his strengths:
In Heist, while you are on the Safe, throw your pickaxe to the closest surface for extra damage!
In order to attack people behind the walls, throw out the pickaxe and then move to the side of the wall so that the pickaxe will hook around the wall, hitting the enemies.
In Gem Grab, If Gene has Super ready and you have 9 Gems, use your Super to avoid getting pulled while picking up the last Gem.
In Bounty, you can use your Super to finish off the low HP Brawlers. Just make sure you watch out for the enemies.
In Super, use your Super to finish off the enemies while getting the bolt and then run away.
In Brawl Ball, Carl's Super can easily finish 1-2 enemies off, giving your team the advantage.
Credits: Kcmii
Carl: In-depth Review
Shared by KairosTime
Attack
Carl throws his pickaxe like a boomerang and he can throw it immediately again once it returns back to him.
The pickaxe has an attack width similar to Nita's but the range is almost two tiles longer than hers at 8 tiles which is the same as Tara's range
It can deal 896 damage at max level on the way to the enemy as well as on the way back. That means it deal damage to as many targets as it touches throughout that time.
If the enemies get hit at max range, both ticks of damage will be instantly applied.
This is a total of 1792 damage from a single attack, which is enough to take out
In Brawl Ball Carl is the only brawler that can kick the ball without consuming ammo.
---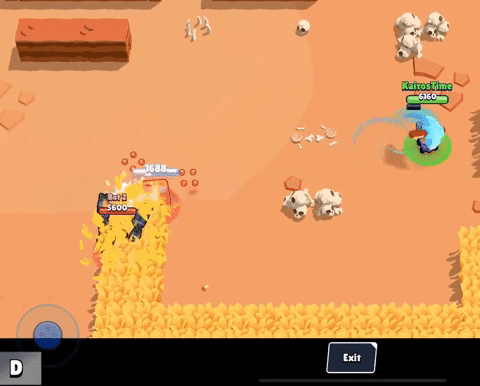 Reload Speed
Carl only has one ammo but it is instantly refilled when it returns to Carl. Carl is very vulnerable to enemy players when his pickaxe is out and flying around so that is definitely something to consider.
Carl has a normal reload speed of 1.9 seconds. If you run away from your attack after throwing it, then that actually increases the time for the pickaxe to return. Thus, slowing down his reload speed to 2.3s.
And if you run towards the direction that you're throwing his attack, then it will reach Carl sooner, which slows down his reload speed pretty much!
Additionally, if Carl's pickaxe hits a wall before reaching the maximum distance, it will return back to Carl early which will also speed up his reload speed.
If Carl is right next to an enemy who is then pinned up against a wall, Carl can use the wall to attack over and over and over again ridiculously fast.
This potentially gives him the fastest possible reload speed out of any of the brawler's in the game, where takes only 0.7 seconds for him to throw out one attack and then be able to throw in a second. this is even faster than Bull with his star power activated.
Even though this is a strange situation, this actually makes it so that he has a higher damage per second than Pam or el primo by 40% granted.
The only brawler that can out DPS Carl in this unique situation is Bull with his star power activated. Carl can also throw his pickaxe to one side of a wall and then move so that it will attack through a wall.
---
Super
For his super called Tailspin, Carl throws out his axe around in circles for 2.4 seconds, dealing 560 damage up to 10 times to as many targets as are within the area. This gives Carl's super the ability to do 5600 damage, which is enough to completely take out every single brawler in the game other than Pam, Carl, Bull. Frank and El Primo.
On top of dealing damage, his super actually gives him the fastest movement speed in the game.
Carl can actually activate his super even when he does not have his pickaxe.
It takes 6 hits in order for Carl to charge up his super against one enemy. If he's able to hit them twice, that's three full attacks.
If he only uses his super against one target, his super can actually recharge the majority of his super but it does require two more hits or one complete attack for him to recharge his super.
But if there are multiple targets, he can recharge his super with just one super and just keep on spinning.
Carl's super will not get stopped when he gets knocked back by brawlers that have a super like El Primo's. They will knock him back but he will keep on spinning and he will be able to continue doing damage.
Also, if Frank stuns him, nothing will stop him from spinning, he will continue to spin but he will not be able to move until the stun wears off.
If Gene tries to super on him, he will be pulled but he will continue to spin and then Gene will just get an axe to the face.
When Carl's using his super, he is immune to slows like Spike's super however he will still take damage.
In Brawl Ball, Carl is not able to pick up the ball when his super is activated.
Star Power
For Carl's Star Power Power Throw, he throws his pickaxe out with more speed, allowing it to travel faster and then also return faster to him. This will actually increase his reload speed as well as increase his damage per second.
Additionally, it will make it difficult for enemy players to dodge a well-aimed attack.
One thing to note though is that it does decrease the amount of time his axe is out there, which is actually a slight decrease to his total control but I think that the other benefits from his star power are well worth it.
Carl has 6000 160 HP which is the same amount of HP as Pam at max level, this makes him a very solid pseudo tank who's also able to attack with a very wide axe from a long range away.
Comparing Stats With Other Brawlers
Reload Speed
He has one of the best reload speeds in the game and one thing that is absolutely important to recognize with him is the fact that he does not have to fall back from enemy fire when he is wanting to reload his attack because he doesn't need to reload his attack, he just needs to get his axe back and then he can keep on attacking.
The only time that he'll have to fall back is when he actually needs to regain more HP, which he has plenty of, which means that he's gonna have a very good presence on the field.
Damage Per Second
Now Carl does have a relatively low attack potential with a single attack. Now paired with his normal reload speed, his DPS is actually somewhere right in the middle of Spikes and Rico's. This is actually pretty impressive when you actually consider the fact that his attack is very wide and how much control it actually offers.
Attack Range
Carl's range doesn't seem particularly impressive but I do think that what is important to recognize here is the fact that he can actually take out squishy long range brawlers like Rico, Piper and Spike in only two hits.
Even more impressive is to note that for the amount of damage that Carl can do at a distance, he is one of the tanky strollers in the game.
Pam is the only other brawler that has as much or more HP than Carl that can actually out range him. Pam's attack potential is greatly dispersed when she's attacking from a range while Carl's is actually strong no matter where it hits people from.
Super
Carl also has a very easy super to charge up, which means that he will have a lot of added mobility in order for him to get close to get a kill or even escape if he needs to.
While he does have a lot of HP, he'll definitely need to be careful when using his super in order to get close to enemy brawlers because it doesn't last as long as Leon super. And at a close range he actually has a very low burst potential. In fact, he does about 1,000 damage and then he has to wait forever for the axe to return back.
At which point, the enemy brawler is going to easily be able to dodge the Super so unless he's actually right next to a brawler and is able to land a lot of damage on to them with his super my guess is that his super would be best used for getting somewhere or getting away from someone, instead of for additional damage.
ALSO READ: