Hello fellow brawlers. It's time to talk about Penny brawl stars newest gadget, CAPTAIN'S COMPASS. We are gonna break down Penny's both original and new gadgets and her star power. After that, we are gonna rank the gadgets and star power, and talk about the best build for Penny. That's a lot to cover so let's jump right to this Brawl Stars Characters guide.
Penny Brawl Stars Characters Guide
Penny's Newest Gadget
Penny's second gadget, Captain's Compass, can be used three times in a battle. When Penny uses this gadget, she calls an artillery strike from her Cannon (mortar) to her current location. The attack from the cannon will hit 5 different sections, similar to Barley's super. Each hit will deal the same amount of damage as her regular shot from her turret. For example, maxed out Penny's Captain's Compass will do 1680 damage like how her normal attacks will do.
However, her newest gadget has a range limit of 17 tiles so if you are too far from your turret, you won't be able to use this ability (though it has a longer range than her normal turret hits of 14 tiles). Also, a minor problem for this gadget is that the mortars hit speed is somewhat slow, giving enough time for your opponents to escape from the shots. Note that her gadget does not charge her super.
Also read: Penny's Basic Information
Brawl Stars Characters Guide
Penny Brawl Stars Gadget and Star Power Ranking
Now we will break down Penny's first gadget and her star power, then rank them using the information we gave out.
Pocket Detonator
Penny's first gadget can be used three times per match. When Penny activates her gadget, she blows up her cannon and deals 1500 damage to nearby brawlers or bots. It also destroys nearby walls, bushes, and obstacles. Her cannon is such a valuable tool for Penny, so it is not ideal to blow it up unless you can get an abundant value. It can also be used as a defense. For example, if an enemy is following Penny, you can drop the cannon and blow it up for knock-back & damage.
Penny Brawl Stars Characters Guide
Last Blast
Penny's first star power is called Last Blast. When Penny's Cannon is destroyed, it shoots out 4 bombs targeting nearby enemies. To have this star power, you will have to have Power 9 Penny, therefore the bombs will deal 1680 damage. This can be extremely dangerous for other Brawl Stars characters, because if you get hit by all the bombs, 1680 times 4, equaling 6720, enough to take out most of the brawlers in the game. However, this will only happen in rare cases, since Penny's Last Blast will target all the nearby projectiles. You can avoid this bomb the same way you can avoid the normal shots from her cannon.
Penny Brawl Stars Characters Guide
Balls of Fire
Penny's second star power is called Balls of Fire. "Cannonballs from Penny's turret set the ground on fire for 3 seconds. Enemies in the burning area take 400 damage per second." Therefore, this star power can deal total damage of 2880 damage assuming that the turret will hit the enemy and the enemy will stay within the radius of the effect. This star power can be very useful against backdooring siege IKE, heist, and also on slow brawl stars characters like 8-bit and Surge on level 1
Brawl Stars Characters Guide
Penny Brawl Stars Best Gadget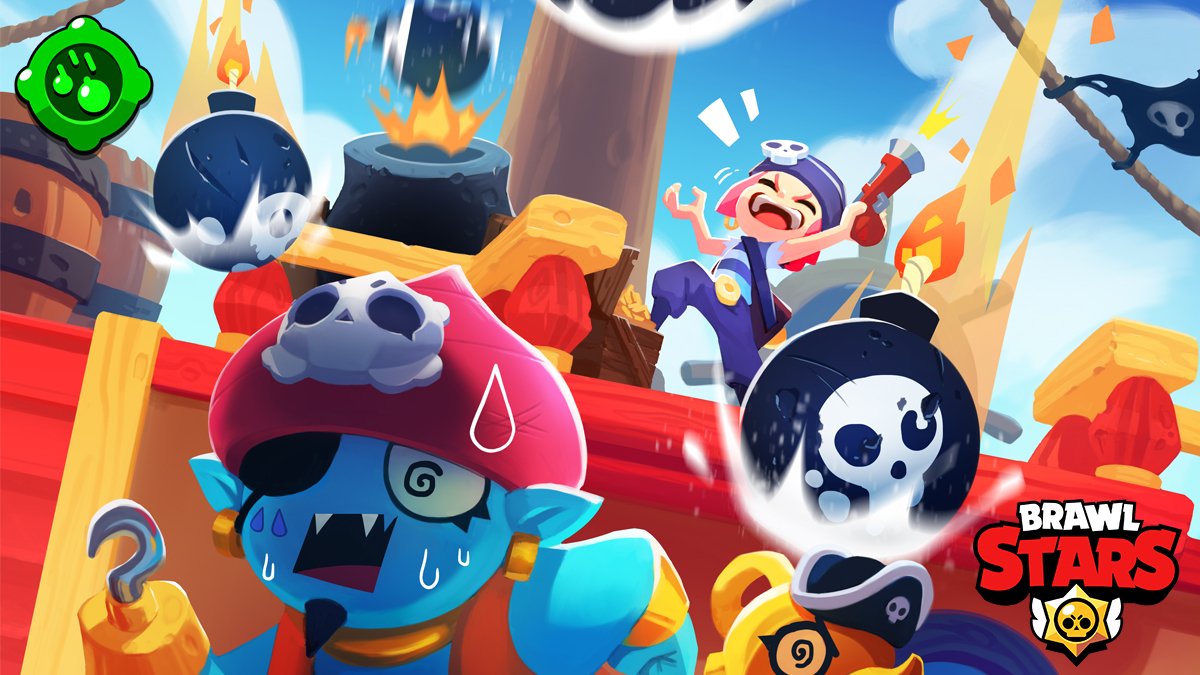 In my opinion, I think Penny's newest gadget, Captain's Compass, is much better than Pocket Detonator. This is why: If you use Picket Detonator, you have to sacrifice your cannon that will deal less damage than a maxed Penny's Cannon. On the other hand, Captain's Compass deals 1680 damage (if it's maxed) and also has a chance of hitting more than one bomb. This shows Penny's second gadget is way better than the first one, except that now Penny can't break obstacles.
Penny Brawl Stars Best Star Power
Penny's star power are better than most of the star power in the game, which makes it hard to choose between these two diverse abilities. In my opinion, I think her second star power, Balls of Fire, affects the gameplay more than the first one.
The reason I think it is better is because the second star power can be used in many ways. One way you can use the star power is to aim it on a building like IKE or heist, which Penny's cannon can deal a lot (and I mean a lot) of damage overtime. Another way to use Balls of Fire is to use in bounty or brawl ball to target the opponents. Even if the cannon misses, it can still damage the opponents with the radius of fire. It also helps Penny control the map and predict their movements. Also, the minor problem with the first star power is that it is really easy to predict.
Brawl Stars Characters
Best Builds for Penny Brawl Stars
Now let's go over Penny's best build (gadget and star power combo). There are in total of 4 builds for Penny, but two of them are better than the other two, because of how each gadget and star power affects each other. The first one is Pocket Detonator paired with Last Blast. The other one is Captain's Compass with Balls of Fire.
Pocket Detonator & Last Blast
Pocket Detonator requires Penny to destroy her cannon. Also, Last Blast shoots last 4 bombs when Penny's cannon is destroyed. Therefore, when you use Pocket Detonator, it will also fire out 4 last bombs with it. This can deal 8220 in total if you use it in the right time. However, this combo is somewhat weak because the Pocket Detonator has a small radius and the bombs are easy to avoid. This build is still powerful in Brawl Ball for example when you can break the walls and take out the enemies.
Captain's Compass & Balls of Fire
I personally like this one better, because it can be way more effective than the first build. Balls of Fire will effect the Captain's Compass, too. This means that the 5 bombs the cannon fires out, it will have the burning effect. This can take out many enemies chasing Penny perhaps, from lowest HP brawler to somewhat high HP Brawl Stars characters. It can also be used to deal extremely a lot of damage against a building like a heist or IKE. If Penny stands one tile in front of the heist, it can hit 3 bombs, plus the Balls of Fire, which can do more than 8640 damage. Considering the heist has 45000 health, you can take out 20% of heist just using this build once.
Penny Brawl Stars Characters Guide
Best Skins for Penny
To finalize our data, we have to know what skin is best for Penny. I won't review them all, so I will rank them quickly.
Dark Bunny Penny
Bunny Penny
Lil Helper Penny
Default Penny
I feel like Dark Bunny Penny and Bunny Penny should be tied, but it really depends on which color combination you like more. I personally like the black and dark colors, so I went for Dark Bunny Penny. Next, Lil Helper Penny's red and dark green colors do not look really great on Penny, and the pointy ear looks a bit off even though it's supposed to be an elf. However, I couldn't rank a Brawliday skin lower than a default skin, therefore this is the ranking for Penny's skins.
Ultimate Build For Penny Brawl Stars
There you have it! Dark Bunny Penny with Captain's Compass paired with Balls of Fire is the Ultimate Build for Penny Brawl Stars. Let me know in the comments if you agree or disagree with anything I said. See you next time!