We are going to be looking at the Brawl Stars new gadgets for Bea, Darryl, Sprout, and Nita being added to the game. To vote which gadgets you want to see in Brawl Stars, go to Brawl Stars Twitter and vote for your favorite gadgets. Let's start – Note that individual builds will be shorter than normal, because they are grouped together.
Bea's Second Gadget and Best Build
Rattled Hive
Bea's second gadget, RATTLED HIVE, can be used three times per match. Bea unleashes three bees/projectiles that circle away from her.
The damage is from 370 to 1000! This damage increases as the bees travel farther from Bea. This means that the bees can deal 3000 damage to a single target.
Even if the enemy is nearby Bea, and all three bees hit, she will deal minimum of 1110 damage. These bees can pierce through the enemies, meaning one bee can hit more than 1 target.
This gadget will be very useful when trying to control an area, since the bees will circle around in a circle.
One thing to note that a bee won't deal damage twice to the same enemy, which means each bee can only damage the same enemy only once.
The bees are not stopped by the wall which will help her deal with throwers and Penny's turret.
Another thing to know is that, unlike Brock's super, the bees follow Bea, meaning she will have some control over where the bees travel.
However, since the bees travel away from her, it won't be easy to control without experience. It's also going to make it easier to dodge the shots.
One tip to dodge these bees is to move in when Bea is not moving. However, if Bea is moving, go the opposite direction of Bea.
For example, if she is moving towards you, you should move towards her. If she is moving away from you, you should move away. But most of the time, you should move in.
Even though the bees control extreme amount of area, it is still shorter than Bea's base attack. Still, 3000 damage is a no joke. This gadget is however, very predictable from range.
Honey Molasses
When Bea activates this gadget, she drops a beehive with a splash of sticky honey around it. The honey slows down the enemies who step on it.
This "turret" can be destroyed since it has 1000 health or if Bea places another one. This gadget can be used when an enemy gets too close and you can slow them down.
Honey Molasses can be also put behind the wall to gain control of that area. Without a thrower, it can be very hard to deal with it, and very annoying.
Even though Rattled Hive can be used very effectively to deal damage and control an area, Honey Molasses is better in most cases.
Honey Molasses can be used to control an area, or slow down enemies that will give more survivability to Bea.
Insta-Beeload
With this ability, Bea Instantly supercharge Bea's Big Sting one time if she misses a supercharged shot. To put it another way, she gets two chances to hit her supercharged shot.
Her supercharged shot at maxed deals 3080 damage. This is a lot of damage, and if you get two chances to deal that damage, it can be very overwhelming.
This will give Bea more power, since she has double the chance of hitting her supercharged shot, and supercharged shot can one-shot Tick.
Her normal attack + supercharged shot, she will be able to two-shot some brawlers including
Tick
Piper
another Bea
Nani,
Brock
Barley
Rico
and more.
Honey Coat
With this ability, Bea escapes certain defeat with 1 health, and gains a momentary shield once per match. She will survive a shot that would have killed her with 1 health.
The shield she gains after Honey Coat is triggered is immune, meaning she won't take damage after gaining the shield.
However, the shield will be there for just a moment. This can only be used once a match.
This star power will let her stay in control for just a little more, but if she heals, she will get a second chance to stay in control.
Honey Coat is a better option in Solo Showdown since she will escape a defeat, and possibly give her a higher rank in Solo Showdown.
However, except Solo Showdown, Insta-Beeload is a better star power since she will get a second chance to hit an enemy with her supercharged shot. This is very important to gain control in 3v3s.
Bea's Ultimate Build
Bea's best build is her first gadget, Honey Molasses, with her first star power, Insta-Beeload.
This is because you can control an area with the gadget and end off the enemies with supercharged shot.
Controlling your lane/area is very important in competitive matches. Her best skin is Mega Beetle Bea, if you want to use her.
Darryl's Second Gadget and Best Build
Tar Barrel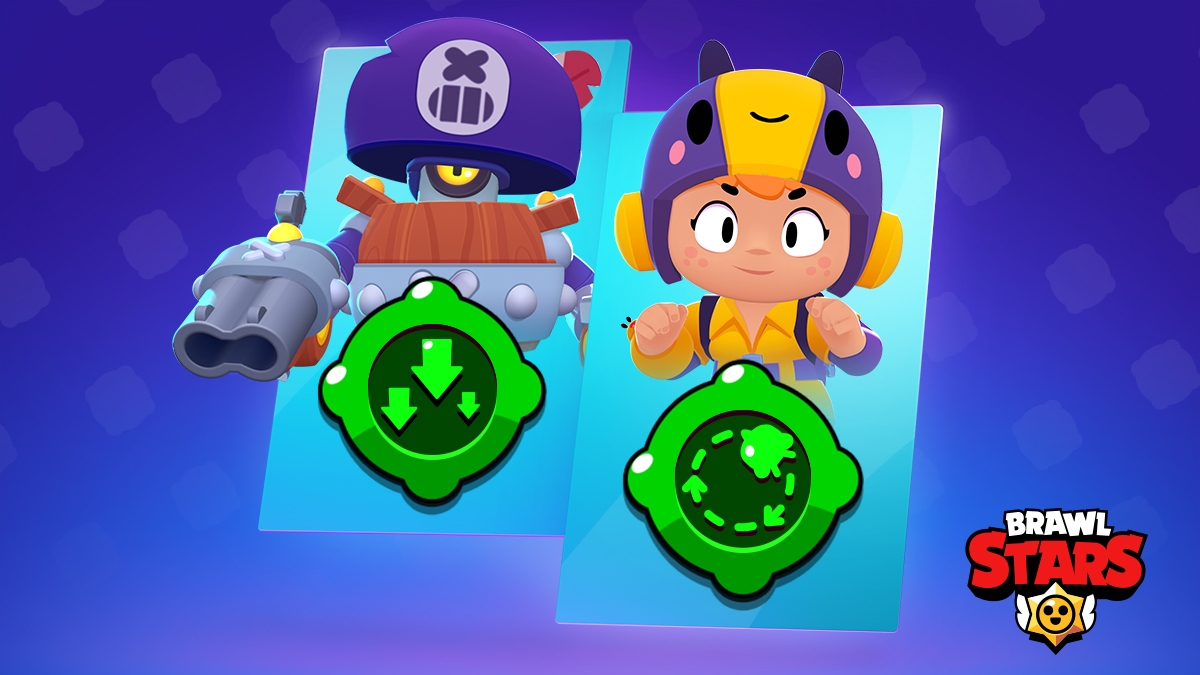 Darryl's second gadget, TAR BARREL, can be used three times per match. When Darryl uses this ability, he creates a slowing area around him for 4.0 seconds.
Therefore, if Darryl is near an enemy, he can activate this gadget to deal damage to the enemy.
This gives a lot of viability to Darryl because Darryl can deal one of the most damage up-close.
However, Darryl has to get pretty close since the radius is very small. One way to use this gadget effectively is to activate it after a roll or even before.
Before activating will guarantee him that the enemies will be slowed. If you use the ability before rolling, it would still be effective, because the Darryl's super lasts only few seconds.
Note that this ability can be used on the other side of the wall, which can help slow down the enemies from the other side.
This gadget will help him deal with far-range brawlers, for example Brock, Piper, and Bea.
This ability can be also used when he is holding a ball – meaning that if Darryl has a lot of health, he can ignore the damage and slow down the enemies to walk through them and score.
Recoiling Rotator
Darryl's first gadget, Recoiling Rotator, can be used three times per match.
When Darryl activates this gadget, Darryl spins around and sprays a barrage of shots in all directions. Each shot deals 400 damage and charges 1/4 of the super.
However, most of the times Darryl would hit 1 or 2 hits.
This gadget will only deal a small amount of damage, but against a big hit box, he can deal a lot of damage, for example safe in Heist.
The main usage of this gadget, however, should be to recharge your super quickly after rolling on a brawler. This can greatly help Darryl since he can roll in then roll away if he needs to.
This gadget can also be used to end a brawler that is below 400 health.
The better choice to go for, however, will be Darryl's newest gadget, Tarred Barrel.
Even though his first gadget, Recoiling Rotator can be better in some situations, Tarred Barrel will help you get more kills and charge his super therefore.
Steel Hoops
With this ability, Darryl shield 90% of the damage for 0.9 seconds. while he is supering. This makes Darryl almost invincible.
For example, if Darryl takes 3000 damage while supering, he will actually only take 30 damage. However, one major problem with this star power is that Darryl's roll is very short.
Also, Darryl is very hard to hit during his roll, therefore the other star power is better most of the time.
Regarding the meta in October-November 2020, this star power is effective in many modes including heist and Brawl Ball because of how meta Spike is.
Rolling Reload
With this ability, when Darryl uses his super, he doubles his reload speed for 5.0 seconds.
This ability doubles Darryl's reload speed after he rolls, meaning this star power will give him a lot of viability against many other brawlers.
This star power will let him deal twice as much damage than normal for 5 seconds.
Therefore, it would make enemy impossible to ignore Darryl on a Heist, IKE in Siege, or even on your teammates.
Definitely, Steel Hoops can be much better in some cases. For example, in G.G. Mortuary, a heist map, Steel Hoops will be better because there are a lot of high-damaging brawlers on their side of the map.
However, in most cases, Rolling Reload will be better.
Darryl's best modes are Brawl Ball, Heist, and even Siege. Rolling Reload lets him deal double the damage he does after rolling.
That means that Darryl will be able to deal twice the damage on the enemy's IKE and safe in Heist.
Rolling Reload will also be also good in Brawl Ball because it will let him take out the enemies easier.
Darryl's Ultimate Build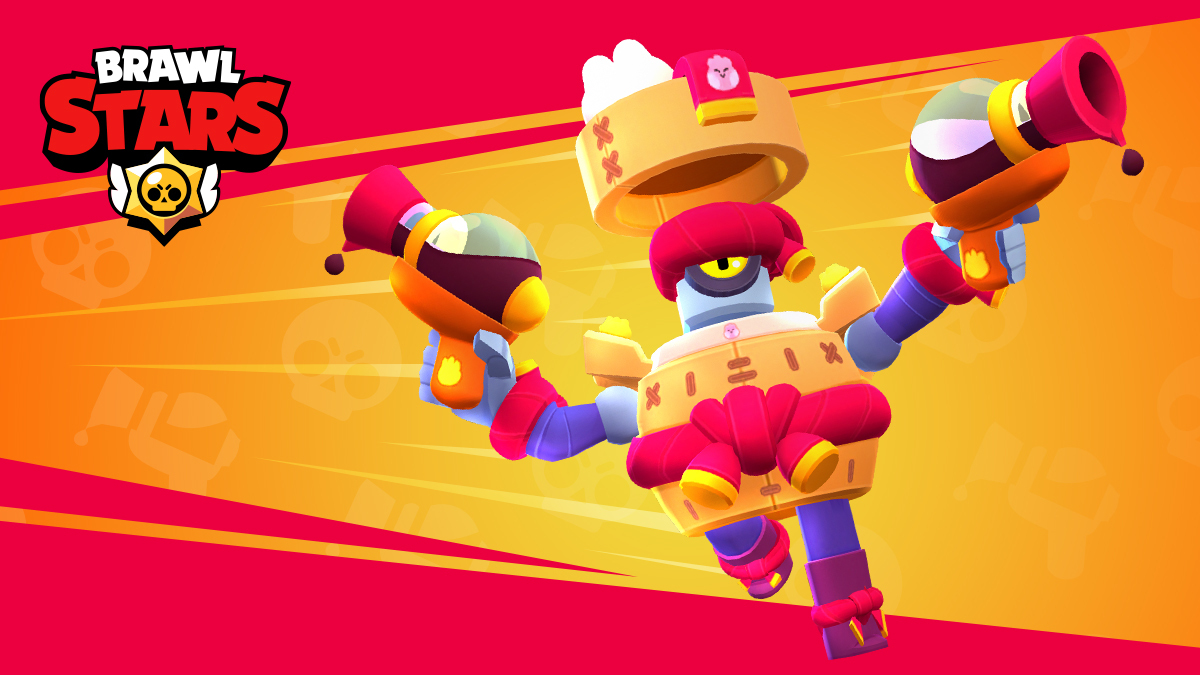 Darryl's best build is his second gadget, Tar Barrel, with his second star power, Rolling Reload.
This is because you can gain control easily using his gadget before rolling to slow down the enemy. Then, the extra damage you can deal with the star power will help you even more on gaining control.
His best skin is Dumpling Darryl, if you choose to buy his skin. However, this skin is exclusive to Lunar Brawl Stars, so just keep that in mind.
Sprout's Second Gadget and Best Build
Transplant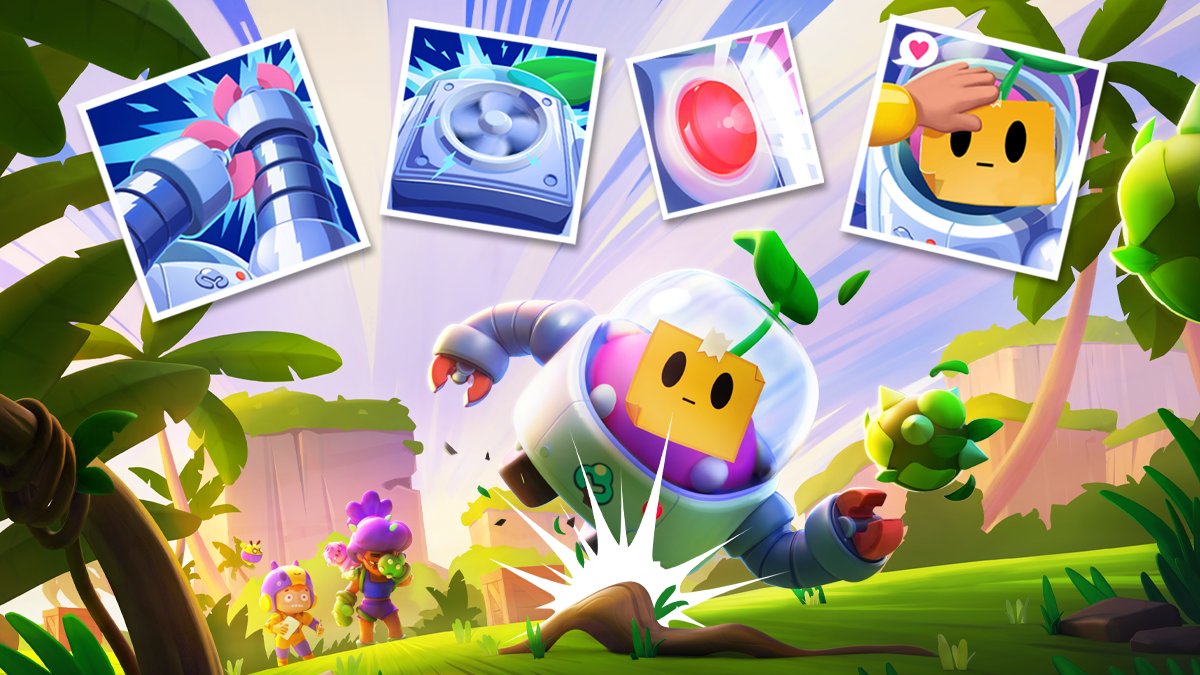 Sprout's second gadget, TRANSPLANT, can be used three times per match.
When Sprout activates this gadget, if Sprout has a super wall on the ground, he can destroy his current wall, but his super will instantly charge again.
You can basically use Sprout's super four times back-to-back, by using this gadget right before the wall is destroyed automatically.
How you do this is, you have three uses of the gadget, and when you put down your first super, you can consume it just right before it gets destroyed, then use your gadget.
Your gadget cooldown will be over by the time the wall is about to break, and cycle this progress.
One thing to note is that if Sprout has two super on the ground, it will destroy both of them.
A way to avoid this is to destroy the first one right after throwing the second one, so you can charge your super without destroying both.
STRATEGY
I am going to talk about a valid strategy that I have in mind using this gadget.
For example, in this map, you can place down Sprout's wall do defend your IKE in Siege from a bot and enemies by placing it between the water block and the crates.
If you do so, the bot will most likely go to the other side, which you can eat your wall to place another one on the other side once the bot is very near.
Firstly, this can take out enemies because if the bot goes up to go around the wall, the IKE might aim on the enemies, and without enemy supports, bot can't do a lot by itself.
Another way that this strategy can be useful is obviously, it will give more time IKE and even your teammates to damage the bot.
I have no idea if this strategy will work because the gadget isn't in the game, but it seems very possible and valid.
Garden Mulcher
When activated, Sprout consumes a bush to restore 2000 health. This is very obvious and straightforward ability that is very useful in many cases.
This is because at anytime, more health means more survivability, which also means longer you are in control. This gadget adds 2000 health to Sprout, which in maxed, is 4200. 4200+2000=6200.
Also, the gadget cool down is very short, meaning you might be able to use it three times, which would give it 6000 more health.
This is a lot of health, and considering the fact that Sprout is a thrower, which is harder to deal with, will make this gadget more stronger.
This gadget usually, and possibly always only takes one cube of bush, therefore you won't probably run out of bush to consume.
Overgrowth
With this ability, after 5 seconds, Sprout's next attack would explode with a larger explosion radius.
This will increase Sprout's potential radius by a lot, and will make it easier for Sprout to land its shots.
Overgrowth will make Sprout easier to finish off brawlers that are running away, and give it longer range in maps that are generally open or more closed than ususal, for example this one, Layer Cake: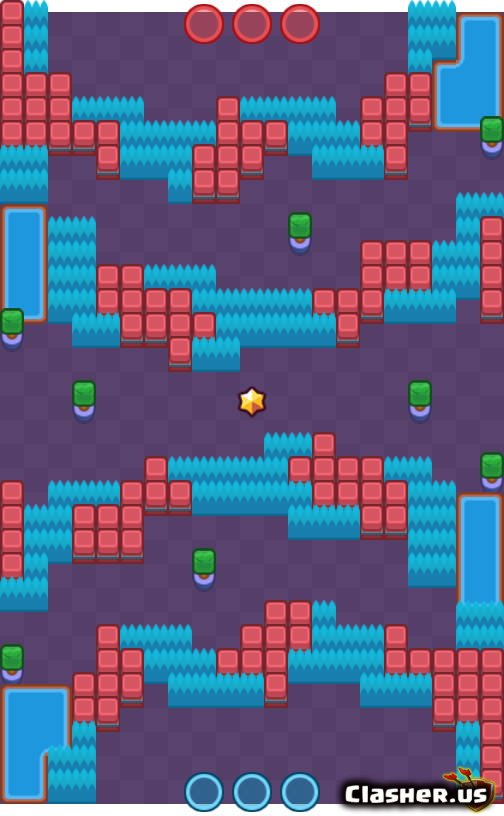 Photosynthesis
With this ability, Sprout activates a shield, partially protecting itself from all attacks while inside a bush. This shield will block out 30% of incoming damage.
It turns off the second after it leaves the bush. This star power is extremely powerful in the maps with more bushes.
With shield, the enemy has to deal 6000 damage against Sprout in order to take it out. Combined with its
Garden Mulcher, basically it is 6000 + 2800 (instead of 2000 because of the shield) + 2800 + 2800 which equals 14400.
THIS MEANS SPROUT WILL POTENTIALLY HAVE 14400 HEALTH! That is a crazy amount of health, and much more than Frank, the tankiest brawler in the game!
Sprout's Ultimate Build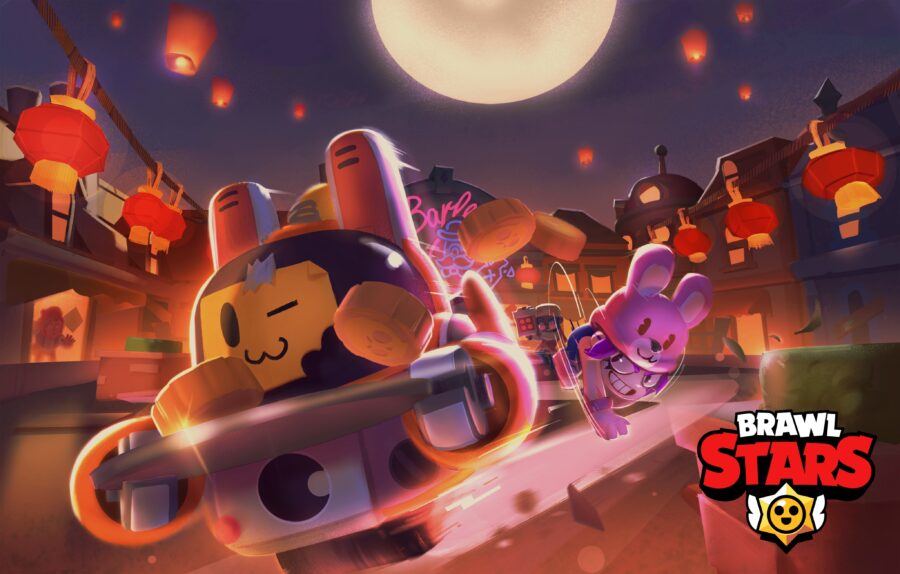 Even though Sprout's first star power, Overgrowth, and its second gadget, Transplant is very good, in most cases, especially in bush maps, this is not the best build. Sprout's best build is its first gadget, Garden Mulcher, with its second star power, Photosynthesis. This is because like we already talked about, more health means more control. However, this is not just normal healing build, this adds potential extra 10200 health to Sprout's maxed health, 4200. Its best skin is Lunar Sprout, if you choose to buy his skin.
Nita's Second Gadget and Best Build
Faux Fur
Nita's second gadget, FAUX FUR, can be used three times per match. When Nita activates this gadget, her bear will shield 35% of damage for the next three seconds.
That means that the enemy will have to deal 8615 damage in order to take out Bruce. That is a lot of damage, but according it will be hard to time it right for the first few times.
This will give much more survivability to Bruce, since in most cases, he dies too early to impact the gameplay.
Also, this will guarantee more damage Bruce will do, because it is not easy to deal 8615 damage very quickly.
This gadget, I think, will be paired very well with her first star power, Bear With Me (which we will talk about soon), since it would give Bruce so much more health!
Bear Paws
When she activates this gadget, Nita commands her bear to slam the ground stunning all enemies within its reach.
This can give Nita more ability gain control, since you can stun enemies that are in a specific area and then take them out.
Usually, successful stun will mean that she will probably be able to take the enemy out.
The delay might be quite long, so make sure you practice it, or you might not be able to get much value out of it.
History of Bear Paws:
On release: Had no delay and stun was immediate, and 3 times per match
First nerf: 3 times per match -> 2 times per match
Second nerf: Had a not quick but not long delay, and bear paused before stunning (this made Nita one of the worst brawlers in the game)
First Buff: The delay was still there, but the bear could move during the stun therefore it made Bear Paws much better
Bear With Me
With this ability, Nita recovers 500 health whenever her bear hits an enemy. When Nita deals damage, her bear regains 500 health.
To word is simpler, if Nita hits an enemy when her bear is on field, the bear will gain 500 health per Nita hit. Vice versa, when Bruce hits an enemy, Nita will gain 500 health per Bruce hit.
Note that healing is not instant and it takes some time for the heal to get to Nita or the bear.
This star power is very effective, because Nita and bear will be on field for much longer because if Nita heals the bear, then the bear has more chance of hitting an enemy.
This will heal Nita, which then Nita can hit a brawler, then it will heal the bear, then the bear……you get my point.
This star power in my opinion had helped me a lot when I played Nita
Hyper Bear
With this ability, Nita's bear attacks faster, Time between swipes is reduced by 60%. This means that the bear will deal twice as much damage than normal!
Hyper Bear is very effective in Heist where the bear can damage the safe in very quick time, since the safe can't run away from the bear.
However, in most cases, the bear will die before even landing a hit on the enemy, therefore Hyper Bear isn't good as it sounds like.
Nita's Ultimate Build
The ultimate for Nita depends a lot on which modes you are playing Nita on.
Before we get started, the best skin for Nita is Shiba Nita, no doubt. In Heist, you would most likely want to go with her second gadget Faux Fur, with her second star power, Hyper Bear.
Outside of Heist, it is almost always personal preference.
If you want to play Hyper Bear, make sure to use Nita's first gadget, Bear Paws. If you want to play Bear With Me, use Nita's second gadget, Faux Fur.
Thank you for reading! I hope this helped which gadget you would want to choose in the poll, or how to play them effectively. Hew, that was long! See you when two new gadgets come out, but for now, PEACE!
ALSO READ: