Penny's Basic Information
Basic Information

 Type: Ranged Brawler/Splash
 Super Range: 4.67 tiles
 Attack Range: 9 tiles
 Speed: 2.5 tiles per second
 Attack Reload: 2s

 Role: Map Control; AoE Damage Dealer
 Cannon Range: 14.33 tiles
 Rarity: Super Rare

Star PowerWhen Penny's cannon is destroyed, it shoots out one last barrage of bombs each dealing 1680 damage.
Abilities
Primary Attack: Plunderbuss
Shoots out a pouch of fool's gold. If the pouch hits an enemy, it bursts and coins pepper targets behind the enemy.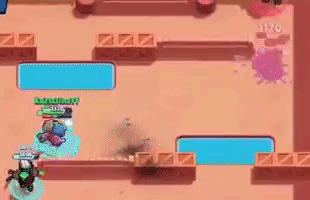 Super Ability: Old Lobber

Penny sets up her cannon! It can shoot at enemies at a long range, even if they are behind cover.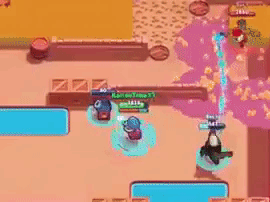 Strengths and Weakness
| | |
| --- | --- |
|  Strengths |  Weaknesses |
| Great at forcing the enemies to move out of the bushes/covers | Weak in close range combats |
| Super provides insane arena control | No burst damage |
| Does loads of damage when targets stay up close | Not good at solo kill |
| Great vs long range attackers/snipers | |
| Excellent Gem Grab | |
Best Game Modes for Penny
Gem Grab
Bounty
Matchups
Great Vs
---
Not Good Vs
---
Tips for Using Penny
Penny is can be very helpful in almost any team. Just try to keep the distance, attack when the enemies clump up and place the Super behind walls/obstacles.
Avoid facing melee or low range Brawlers.
Avoid short range fights. Stay away from it and do damage from far away.