Penny's Basic Information
Basic Information

 Type: Ranged Brawler/Splash
 Super Range: 4.67 tiles
 Attack Range: 9 tiles
 Speed: 2.5 tiles per second
 Attack Reload: 2s

 Role: Map Control; AoE Damage Dealer
 Cannon Range: 14.33 tiles
 Rarity: Super Rare

Star PowerWhen Penny's cannon is destroyed, it shoots out one last barrage of bombs each dealing 1680 damage.
Abilities
Primary Attack: Plunderbuss
Shoots out a pouch of fool's gold. If the pouch hits an enemy, it bursts and coins pepper targets behind the enemy.
Super Ability: Old Lobber

Penny sets up her cannon! It can shoot at enemies at a long range, even if they are behind cover.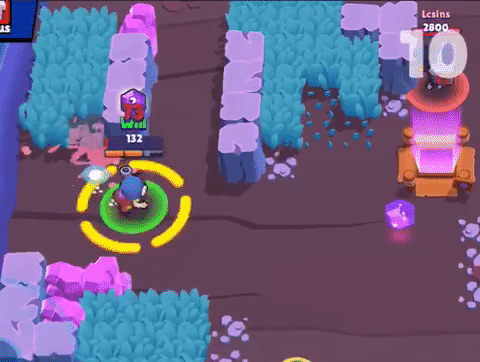 Strengths and Weakness
| | |
| --- | --- |
|  Strengths |  Weaknesses |
| Great at forcing the enemies to move out of the bushes/covers | Weak in close range combats |
| Super provides insane arena control | No burst damage |
| Does loads of damage when targets stay up close | Not good at solo kill |
| Great vs long range attackers/snipers | |
| Excellent Gem Grab | |
Best Game Modes for Penny
Gem Grab
Bounty
Matchups
Great Vs
---
Not Good Vs
---
Tips for Using Penny
Penny is can be very helpful in almost any team. Just try to keep the distance, attack when the enemies clump up and place the Super behind walls/obstacles.
Avoid facing melee or low range Brawlers.
Avoid short range fights. Stay away from it and do damage from far away.
Quick Guide to Using Penny
Shared by Andrew Schmitz
Penny's Abilities
---
Attack: Plunderbuss
Penny shoots out a pouch of gold that explodes in a cone in if it hits an enemy or stops after a considerable distance.
The pouch does 840-1176 damage. A direct hit to enemy does the same amount of damage if it's a hit from the splash.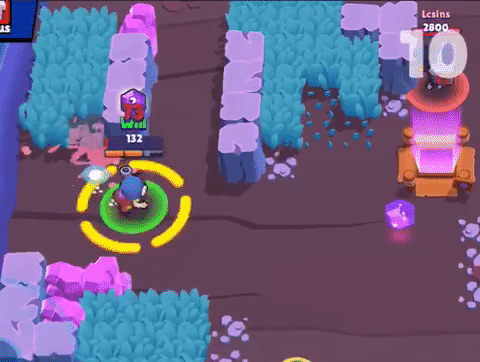 Super: Old Lobber
Penny's cannon is arguably the best super in the game.
If used correctly, it denies a large area and adds another threat to the other team. While the cannonballs have a slow rate of fire and are easy to dodge, they do lots of damage and are very annoying. You need to have your team protect it. Once you get the cannon up, you can charge another up quickly if the shots hit.
The two most important parts about her super are getting it fast and keeping it alive. Try hitting multiple enemies at the beginning to charge it right up. Then, it is imperative that you place the super behind a wall and keep it alive. Without her super, Penny is just a weaker Colt.
Star Power: Last Blast
When Penny's cannon is destroyed, the original spews out several other cannonballs in a wide radius that do 1680 damage each. It can be useful to purposely destroy your cannon by placing another if there are lots of enemies close by.
Matchups
---
Throwers
  
Most of the time, throwers will stay out of your reach. The facts that they can throw over walls and destroy your Mortar is very hard.
You shouldn't stand near your mortar in general, but it is even more important when dealing with a thrower. This way, their super won't kill you and the cannon.
Tanks
Since tanks have large hitboxes and supports often are behind them, they are great targets for your main attack.
They will often try to flank around and destroy your mortar, so make sure to assist your main tank in defending it.
The cannon is good at dealing with Pam since the cannon can take out her healing station.
Damage Dealers
It is very hard to win a 1v1 against a damage dealers.
Like Jesse, your damage potential is high, but the enemies must be grouped up to get the full extent of the damage.
You should only be trying to poke damage against damage dealer brawler, or auto-aiming from up close. Besides very close ranges, you should always aim your shots.
Snipers
Snipers will almost always beat you in a poke battle.
However, Penny has a fast rate of fire enabling her to get 3 shots in very quickly. At very close ranges, you can get 3600- 5040 damage in.
It is best to either surprise snipers or let other characters take care of them.
Brock is especially annoying because his super can clear your cannon and the walls protecting it effortlessly.
Builders
Jesse has a very similar game plan as you. When playing against another builder, you need to isolate yourself from the rest of your team.
It is crucial that you get your super up before theirs, as if you don't you will be playing catchup the rest of the game.
Game Modes
---
Gem Grab
There are 2 stages to playing Penny.
At first, you need to charge up your cannon asap. Making risky plays is beneficial at the beginning as you need to get your cannon quickly.
After you get a good cannon down, work on picking up gems and denying space. It is crucial that you protect your mortar right after you place it.
Bounty
Try to poke at other damage characters until you have your super.
Try to avoid the open space, as snipers can rip you apart.
After you have your mortar, focus on getting the enemy in range of it.
When you have the lead, make sure you let your enemies come to you.