Tick was released in the huge Brawl Stars Summer 2019 Update! Tick is free to unlock for all players who have at least 4000 trophies on the Trophy Road.
Tick's Basic Information
Basic Information

 Type: Ranged Brawler/Thrower
Bullets per attack: 3
 Attack Range: 8.67 tiles
 Speed: 2.4 tiles per second
 Attack Reload: 2.2s

 Role: Map Control; Splash Damage
Attack Radius: 4 tiles
 Rarity: Common Brawler

Star Power: Well Oiled

When Tick takes no damage and doesn't attack, he starts recovering health 2.0 seconds faster than normal.
Abilities
Primary Attack: Minimines
Tick lobs a cluster of mines that separate before landing. The mines explode on contact with a target, or after a few seconds.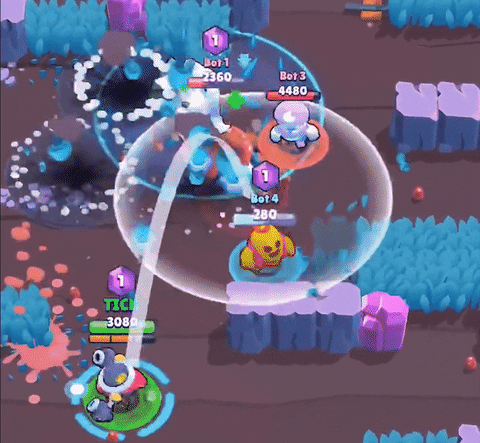 Super Ability: Headfirst

Tick detaches and launches his head. After landing, the head hops toward the nearest target and explodes on contact!.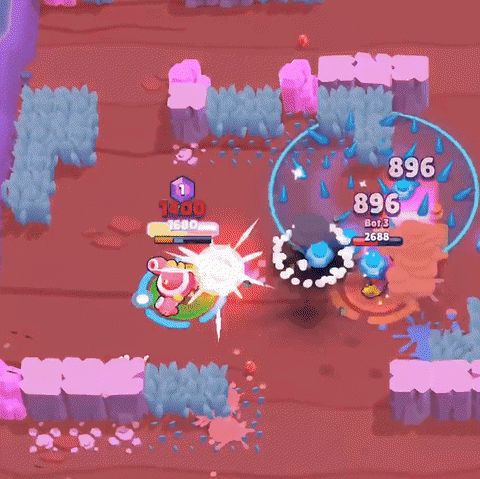 Tips for Using Tick
The enemies can see your mines. They are not invisible.
At the moment, Tick has the lowest HP in Brawl Stars. He is the only Brawler that can be one-shot-ed by another Brawler using regular attack (Darryl). Though, he has the best attack range in Brawl Stars right now. Thus, attack the enemies from a long distance. Attacking the enemies behind the walls is very easy when using Tick.
The Star Power Well Oiled allows Tick to start recovering his health 1 second right after taking damage or doing attack. This boosts Tick's survivability by a lot.
Tick is a great map controller. His mines can easily obstruct the enemies and can deal up an insane amount of damage (2688) if the enemies step on them all. If they step on all 9 mines, it would be 8064 damage in total.
Tick's Head (Super) does splash damage. It can destroy walls and grass.
It is pretty easy to destroy Tick's Head. Thus, use it on the enemies who are low on HP to force them to attack the head, stopping them from recovering HP. You should also use the Super on the enemy who doesn't have any more ammo available, or on the one who is very close to you.
He is very vulnerable in maps that have large bush areas like Cavern Churn or Snake Prairie. Shotgunners like El Primo, Shelly or Bull can come out anytime and take Tick out in seconds. However, Tick still has an advantage in these maps as he can use the Super without getting noticed.
If a Brawler jumps over Tick's Super (For example El Primo, Piper, Crow etc) when it blasts, they will not take any damage.
In Gem Grab, Siege or any game mode that spawns items, Tick is excellent at preventing the enemies from picking up the items by controlling the spawning arena with his mines.
The enemies can actually bypass Tick's mines by going through the space between the mines. Place your mines close to each others (using 2 or more attacks) to force the enemies to go through them in bottleneck area.
Tick – The First Thought
Main Attack
His main attack is throwing proximity mines onto the battlefield that will detonate when enemy Brawlers walk over them or after a short delay.
Each of his attack has 3 mines, each deals 869 damage. This means that if all three attacks actually hit their target then they'll deal 2688 damage which that's the fifth highest damage from a regular attack in the game. It also does Splash Damage.
The big struggle with this attack is the very long wait from after he attacks until the mines deal damage.
It looks like if a brawler is not immediately on the mine, it'll take 3s to explode but if you actually do land on somebody then they'll explode within 1.5 seconds. The delay is pretty long in comparison to a lot of brawlers.
Super
His Super is amazing. He detaches his head and throws it on the battle field and it will go homing after enemy Brawlers until it explodes. But If you are on the enemy team, you can shoot and destroy that head before it gets to you.
His head goes flying out, chases the enemy brawlers down and explodes on them, dealing 2800 damage.
This isn't super impressive damage goes for Supers. It's kind of similar to taking full damage from the Spike's Super. It's the 12th most damaging Super in the game, right in the middle.
If its HP reaches zero before it reaches the target, it will actually explode. So it's pretty safe to say that it won't do damage to you or any other teammates. It only has at 2240 HP so a lot of brawlers can take that out in 1-2 attacks.
Will this really be a big issue?
Maybe some brawlers like Frank that has a little bit of delay, or Poco with low attack damage, will have some struggles against this.
Stats Overview
Health
At max level, Tick has 3080 HP. This is actually really important because this means that is going to be the new lowest amount of HP that any brawler has in the game. It is just enough to get killed by a single attack from Darryl.
Attack Radius & Range
His attack radius and range are much better than most of the brawlers in Brawl Stars.
His attack range is 8.67-tile long with about a 4 tile radius.
It's very crazy because in total that comes to a massive 11 tile range for his attack. It's 2 tiles longer than the other two throwers, Barley and Dynamike and it's 1 tile longer than Piper's regular attack.
He is going to be a pretty excellent control Brawler from a distance.
Reload Speed
Seems like his reload speed is ~2.2 seconds which is pretty crazy good. Though you have to make sure that you're like you really carefully aim his shot so you don't waste your attacks.
Movement Speed
Tick's movement speed is the same as the majority of all of the followers in Brawl Stars, which is 2.4 tiles per second.
Related Articles