El Primo's Basic Information
Basic Information

 Type: Melee
 Super Range: 8.67 tiles
 Attack Range: 3 tiles
 Speed: 2.5 tiles per second
 Attack Reload: 0.8s

 Role: Melee Tank
 Punches per Attack: 2
 Rarity: Rare

Star PowerEnemies caught in El Primo's Super will burn for 600 damage over 4 seconds.
Abilities
Primary Attack: Fists of Fury
El Primo fires off a furious flurry of four fiery fists. That's a spicy jalapeno knuckle sandwich!
Super Ability: Flying Elbow Drop

Leaping high, El Primo drops an intergalactic elbow that pounds and pushes away anything he lands on!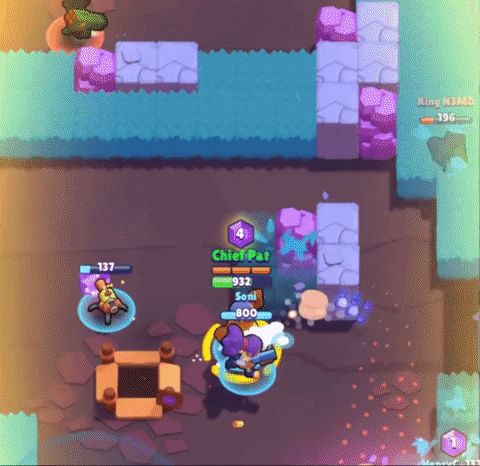 Strengths and Weakness
| | |
| --- | --- |
|  Strengths |  Weaknesses |
| Excellent sustained damage output | Kitable when the Super is not up. |
| Super tanky | Short attack range. |
| Deceptively long attack range although he is a melee brawler | No crowd control ability. |
| Super is useful on both offense and defense, can destroy obstacles. | |
| Easy to use for all new players | |
Best Game Modes for El Primo
Brawl Ball
Showdown
Heist
Gem Grab
Matchups
Great Vs
---
Not Good Vs
---
Tips for Using El Primo
Make the most of his high HP to take the control of the map at the beginning.
You always have your teammates supporting behind so don't hesitate to play aggressively.
You have to play aggressively while using El Primo. You can't wait for the opponents to come to you.
Don't hesitate to use his Super to escape.
When getting attack by Nita's bear, or by the other El Primo, moving back while using the basic attacks to do damage.
Make the most of the walls nearby. Move around it and attack the enemies right at the corner.
El Primo – The Ultimate Guide
By SuyogThePun
Please do note that this guide is a bit obsolete!
Who is El Primo?
El Primo is the man who got hit by a meteor and got superpower. He will crush any brawler in the game when they get close enough. He is the tankiest brawler in the game with 1300 health. Since he is a rare brawler, it is not very hard to unlock him.
He is great in Brawl Ball as a Ball carrier and good in Gem Grab as an agro. He is a tough survivor in Showdown.
Health
He is the tankiest brawler in the game with 8120 health at max level. Not much else to say about this so let's move on.
Attack: Fists of Fury 
He launches 4 punches, each dealing 360 damage for  damage in total. He can take out most of the roster with 2 attack and will take almost any brawler in a 1v1.
Even though he is a Melee character, he still has quite a long range which adds extra deadliness to him.
Super: Flying Elbow Drop
El Primo leaps into the air and creates a shockwave when he hits the ground. Effectively stunning and knocking back any enemy caught in the blast and allowing El Primo to finish them off. At the base, his super does 800 damage.
You can use the Super offensively and defensively. To effectively kill any enemy that is trying to run away by landing on them. Or to run away from any enemy when you need to regain health.
If you are worth a big bounty or hold a lot of crystals, you should always jump away when you have to but if are worth a lower bounty or have no gems on you, you should try to assassinate one of the enemy's back liners.
When you're close to other brawlers, you can spam your super like Shelly users do. By doing so, you can make a chain of supers as Primo charges them really quick. His super deals area damage and the knockback helps him survive as the opponents can't attack for a split second. You can basically kill anything in your way; maybe even all three brawlers if they're close enough
In Brawl Ball you can use your super to map hop with the ball just like Darryl. Throw the ball then jump on the ball. That way you can score easily (there's more complicated stuff like when to jump where to jump etc… won't be covering that here).
| | |
| --- | --- |
| Strengths | Weaknesses |
| Easy to use | Melee |
| Great in almost any mode | Can be kited easily |
| Great HP | Can be ganged up on easily |
Matchups
Shelly:
One of the toughest 1v1 opponents for El Primo you should try to avoid her in most cases.
Shelly is a perfect counter to El but that doesn't mean you can't beat her. Try to corner her to an enclosed space and try to not be poked. Instead, slowly build up your Super and then jump on her and finish her off.
Make sure that she uses up her super beforehand. If you drop on her and she uses her super to knock you back, it will most likely be the end for dear ol' El
Colt:
A noob colt is an easy kill but a pro one is a pain in the ass.
To kill a Colt using Primo, you should first Identify whether the colt is using Auto Aim or not. Juking auto aiming Colt is easy but might need more efforts against a good Colt but it's not impossible just make sure your movement pattern is not predictable. Never move towards a Colt in a straight path, Always move in a zigzag manner. Use Walls to avoid Colt's attacks and make your way towards him by juking shots. Once you are close you can finish him real quick. Alternatively if you have ur super you can use it to get close to him.
Brock:
One of the easiest matchup for El Primo.
Unlike Colt or Ricochet who shoot many bullets at once, Brock only fires 1 rocket at a time. Just make sure to not get stuck in any walls or enclosed area.  Juke his shots until you get close to him and can finish him.
If you see him using his super, you can use your super to dodge it or just run away from it.
Jessie:
Just like Brock, her attack is pretty slow and she has a much slower ammo recharge speed that most others so taking her out should be easy peasy lemon squeeze. Make sure you aren't rebounding her shots to your teammates.
Her super isn't going to do any good either.
Nita:
Somewhat of a difficult matchup because of her poke characteristic.
Killing her isn't hard the hard part is getting close to her. You can get close to her by using walls, bushes, jump pads or your super.
Dynamike:
Fairly easy matchup. Just surprise him from a bush because the bushes will be where he is headed in most matches. Make sure you don't walk straight into his sticks try to juke a bit.
Make sure to single him out from a group if you want to take him out. Elbow drop him if he's running away.
El Primo:
The ol' mirror matchup. You want to play smart and make sure that most of your punches land.
Try to get your super as soon as possible as most of the time the primo who jumps sooner wins. While punching you should walk away from the opponent primo that way you can hit him but he can't. In competitive scenarios the primos try to avoid giving shots to the other primo by juking.
1 more useful tip you can cut his damage in half by going in circles around him.
Bull:
The battle of the short Rangers.
Bull will end you quickly if you don't play smart. You should keep your distance from him as he needs to get real close to deal maximum damage but you deal the same damage at max range. If he is chasing you always walk in the opposite direction while throwing punches on his face. Use your super to stun him and kill him.
Ricochet:
Much like Colt, try not to enter a thin path and weave and juke his attacks. He is extremely squishy so you should be able to take him quickly when you are near him.
Just make sure he doesn't start getting clear shots on you and try to stay away from corners from where he can get easy rebound shots.
Barley:
Much like Dynamike with a bit better play style. It is pretty easy to catch up to him and kill him.
You can use your health to get close to him as he doesn't have burst potential.
Poco:
Very much an annoying character to deal with. He keeps poking you and running away and once you get close enough to him he uses his super and heals himself and then all that poking finally kills you.
You can beat him by either getting in range by hiding in a bush or elbow dropping him to the ground and finishing him off.
Mortis:
While he may be annoying to deal with, he is pretty easy to kill. Make sure to attack in the opposite direction when he is coming for you. However, a wise Mortis will just run away when dealing with El Primos.
It is futile to chase after him even when you use your super. It's best to flank him using a teammate.
Bo:
Pretty much same as Colt expect juking Bo shots is easier. after the recent buff he has decent damage so don't ignore him.
Make sure to defuse those mines whenever you can otherwise they can cause you trouble later.
Piper:
Easy kill. nothing much to say here just juke her shots and get close to her and finish her.
Watch out for that buffed super tho don't chase her if she has her super or is close to getting it.
Frank:
Work under progress.
Pam:
Work under progress.
Carl:
Work under progress.
Darryl:
Work under progress.
Penny:
Work under progress.
Tara:
Work under progress.
Gene:
Work under progress.
Spike:
Spike is a Hard matchup because of his damage. You need to surprise him by bush camping or using your super. Getting close to him by juking shots is really hard because of the spread.
You should stay away from him unless you are sure you can get close as he kill you in an instance with a few shots combines with his deadly super.
Crow:
It's is pretty hard to deal with him.
His damage overtime may not seem like much but 'overtime' it's gonna get worse and worse and then you'll die but slowly. People say that he is crap but tbh his dmg overtime really racks up especially against El Primo.
You want avoid confronting him straight up. Hide in a bush, wait for him to get near and WAPOW! You can also use your health as a way to get close to him as he has low damage. But mind that movement speed.
Leon:
Hard matchup even after the nerf he can still kill you if you are careless.
Try to juke his shots and kill him before he kill you. If he uses his super make sure you stay close to your teammates as they will need your help to take him out. Just like bull you can use your super to stun him and kill him.
Game Modes



Showdown
El Primo is one of the strongest characters in Showdown. He is mainly used in Showdown because of his survivability in battles. His huge damage and health is extremely useful for taking out all characters. Being a Melee character is also advantageous because the map size shrinks, pushing all players close together.
Playing as El Primo in this mode is basically running in a field of daisies or stomping on the bones of fallen victims. Nothing in between.
Initially you want to camp near a box and wait for someone to come near then destroy them. Once you kill them, open the box and you will get another power up. Then go around killing other brawlers and opening boxes. Look out for Shellys and Bulls as they are your main rivals in showdown.
Try not to be caught in middle of a war. And go in for the kill once the mayhem stops.
Bounty
Using him here is somewhat strange. Strange is not bad.
he whole point of bounty is to stay back and kill players without dying yourself or else you could set your opponents up big time. However, as El you HAVE to go in close proximity to attack opponents.
At the beginning of matches try going in from a side and kill off anyone who is trying to flank. Regen then get mixed in with the mayhem and fall back. It's best if you have another teammate nearby, preferably Poco. Try to keep your stars at a low.
Weaken the enemies and let your team mates get the kill so that you can keep attacking without having to worry about giving up the lead. Keep playing defensively and you should win the match.
Smash and Grab
El Primo shines very much in this gamemode. He has a very good control ability to hold down the middle as most brawlers do not want to face El Primo and his teammates. It's best if you keep that position instead of going on the hunt.
At the start, try going in from the side as going head on will surely result in your death. Main enemies you want to hunt are the snipers and AOE attackers. Stay near and guard your teammate who has the most crystals. When the countdown for your team starts, you want to regroup at your base and protect the one holding the gems. Doing this will ensure victory.
Heist
El Primo is pretty good in heist. Not in the god tier like Dynamike or Barley but still pretty good.
He can create a hole in the blocked ways using his upper while on offense and can quickly take out anybody coming near on defense.
On defense, if there is TNT blowing the way, there is not much you can do except sometimes land a few hits over the river. Once the TNT blows up, go out alone and weaken their attacks by taking out one enemy at a time or two if you can. It's wise to die in this gamemode because when you die you'll spawn near the safe and the enemies are moving towards the safe so it's much easier to get to the opponents than in the other game modes.
On offense, you want to blow up a path for your teammates using your super. It's also wise to take reroutes and go through different openings instead of only one. You should note that Barleys and Dynamikes are going to be your living nightmares. It's entirely possible to take out the enemies your self but it's wiser to take them out with a teammate so that once they die, you'll be able to push and flush them out.
Conclusion
El Primo currently is very strong. Some would say he is the best brawler in the game. You might disagree but all in all it's very easy to get mad at someone playing El Primo but it's equally easy to accidentally go on a trophy push with him.
With that being said, please correct any of my misstatements in the comments and I'll see you guys very soon.
Available Skins
Related Articles