In diesem Leitfaden für fortgeschrittene Brawl Stars Charaktere konzentrieren wir uns auf Gene. Ja! Wir haben heute unseren Gene-Guide für euch. Wir werden über seine Rolle als einer der besten Charaktere der Welt sprechen. Brawl Stars ZeichenGrundlegende Statistiken, fortgeschrittene Tipps und Strategien für jeden Spielmodus!
Basisstatistiken
Wir fangen mit diesem Mann an, indem wir euch ein paar Fakten über Gene geben, nur ein paar kurze Statistiken.
At level 10, he has 5040 HP, which leaves him towards the middle range when it comes to tankiness and squishiness. He's just kind of in that middle at level 1, he's going to have 3600 HP each shot that he does 1400 at max level, not including his star power which can raise it to 1700 and every shot does 1000 at level 1 additionally each little pellet at max does 233 damage while they only do 166 at level 1.
Gene's Angriff kann 11 Kacheln, die die zweitgrößte Angriff oder die zweitlängste Angriff im Spiel, die nur hinter Spike gut nach seinem Spike wenig R und G's bewegen sich aus und seine volle Schuss, so dass Sie die volle 1400 Schuss treffen kann es 5 Fliesen in einen Tag auf 5 und 2/3 Fliesen, die wieder nur absolut unglaublich ist gehen kann.
Die Reichweite von Genes Super ist 7 Felder. Es verwendet, um ein wenig länger sein, aber sie hatten es unten wegen, wie OP es ist zu nerfen.
So that being said let's start talking about the star power. So star power is the first-star power we have for you guys isn't magic now magic puff basically heals your teammates around you here as a friendly brawler sore 400 damage per second or 400 heal sorry per second so it used to be 200 then they busted to 300 nobody was using it so they made of 400 and it's now really strong a lot of people are using it in competitive. It's really good because in most Maps you're near your teammates a lot of the time so this addition of 400 healing per second is actually huge the second-star power is spirits lamp.
Lesen Sie mehr: Gen-Leitfaden: Grundlegende Statistiken, beste Tipps und Strategien
Also dies war die häufiger verwendet ein Geister Runde ist im Grunde, wenn Sie Ihre super statt mit Ihrem super, können Sie auf in Ihre Schüsse halten tun 1.700 Schaden in Ihrem kleinen Kügelchen tun ein wenig mehr statt der Basis 1400 und 233 durch Ihre Kügelchen. Ich persönlich mag die Geisterlampe nicht wirklich als Starpower, ich denke, sie ist ein bisschen faul, nicht dass das Team, von dem ich spreche, faul wäre, aber es ist einfach ein bisschen einfach, das kann man für alle Brawler machen, wenn Poco einen Super hat, kann man ihm zusätzliche 100 geben, ich persönlich hätte gerne, dass einer von ihm Sternenkräfte Ich denke, das wäre wirklich cool und würde das Spiel ein wenig verändern, nicht zum Besseren oder Schlechteren, nur den Stil verändern. Hoffentlich können sie das hinzufügen, wenn sie jemals dritte Sternenkräfte hinzufügen, aber wir werden sehen. Also ich persönlich mag es, magische Puffs zu benutzen, eine wirklich gute Sternenkraft, wirklich teamfreundlich und man kann mit dieser Sternenkraft eine Menge Dinge mit seinem Team machen, man kann Geisterschlag benutzen, wenn man denkt, dass seine Teamkameraden nicht in der Nähe sind und man nur eine Lane hält, aber ich mag mag magische Puffs wirklich, sie sind wirklich gut.
Lesen Sie auch: 20+ Tipps zum Spielen mit/gegen Gene
ERWEITERTE TIPPS
So with that being said let's move on to our next category which is gonna be overall Gene tips before we get into some gameplay tips. I'm just gonna give you guys some quick little tips for Gene stuff that you can keep in the back of your head when playing Gene, something to keep in your mind that's always useful so you can three top any thrower in the game and three types any squishy slash really long rein in the game so it's Piper, Brock, Rico, Colt any throwers so Mike, Barley, Tick you can three top even Spike there are a lot of brawlers you can actually three type our three top specifically throwers and long-range. You can actually auto-aim your super with 100% hit rate anywhere in between 0 and 5 tiles as long as you follow the direction your enemy is going with your brawler's body so if they're going left just walk left with your Jean if they're going right walk right with your Jean this only works vertically so it won't work.
I don't know why but make sure you guys are Auto aiming your supers from zero to five tiles away again I don't know how long five tiles is I've just kind of developed a sense for it so you guys as you guys were playing guys are just gonna continuously develop a sense for what's close enough and what's too far but definitely do this instead of aiming because for at least the short supers and the short poles because it's gonna happen a hundred percent success hit rate if you're holding a lane what I would suggest doing is just continuously chipping your opponent until they're under 4,200 and then when they are you can pull them three top them and then you're gonna be able to get the kill.
Das ist es also, was ich empfehle, denn wenn du deine vollen drei Schüsse triffst, bist du im Grunde nur ein kleines Pedal oder eine winzige Prise von deinem Super entfernt. Wenn du also deine vollen drei Schüsse triffst, nachdem du jemanden gezogen hast, ist das definitiv der ideale Schritt, also irgendwo zwischen zweitausendachthundert und eins und viertausend 199 PS, um den maximalen Wert mit deinem Super zu erreichen.
ERWEITERTE ANLEITUNG FÜR ALLE SPIELMODI
GEM GRAB
Okay, so the first mode we're gonna be talking about is gem grab. So Gene is easily a top-five easily a top three probably the number one brawler in gem grab. He is a hundred percent the best mid in gem grab, he's just an absolute beast with this pole. He has the best super and jump guitar has the best super in the game but for gem grab and the wait gem grab is made and kind of like just the objective of it Gene is just an absolute beast with his super you can take all the gems on their team and give it to you in one pull. It's absolutely amazing you can be used on all gem grab maps either has a mid or a lane he is very versatile as a brawler.
So if you're facing a tank you can beat them if you're facing a range you can beat them gene can literally do anything especially with that pull Gene again as I said is the best mid slash gem collector Gene having the second most range meaning that in this control type game mode. He's able just to constantly hold control at a distance where he is comfortable so if you're facing a Piper you can actually be out of Piper's range of slowly chipping him if you're facing a tank you can go close enough to hit your 1400 full shot but at the same time not get hit or you can just play a mid-range and go if you're facing Spike get a little bit out of the spikes this then still hit your full shots or just a really big chip but have the spike now I hit you, you can literally do anything because of the range and because of how open the maps are and that's what makes Gene an absolute beast of a brawler in gem grab.
BRAWL BALL
So now on to Brawl ball, so Gene is also a top-five brawler in Brawl ball. You're actually gonna hear me say top five in a mode a lot with Gene cuz Gene is just crazy versatile so we can be used on all Bravo Maps whether they're close range or far range doesn't really matter. There is a lot that Gene can do here, Gene has like one of the best supers when it comes to Bravo in the game part potentially a top three super I would say top two but Frank is arguably top two so I'm just gonna be safe and say top three. He's a very controlling super which is good for the current meta, currently, the current meta is just like kind of anti-tank control and so Gene is really really really good for that magic puffs is a broken star power on this mode I mean as you're always around your teammates you're always really in this really condensed area so it's just really good to have consistent constant 400 heal a second for your teammates it's actually really really good, he's a great defender due to his pull.
Gene ziehen ist wirklich tödlich, kann eine Menge tun, es öffnet sich, eine Menge Platz für Sie in der Verteidigung, während sie gut in der Verteidigung und extrem gut in der Verteidigung. Er ist auch extrem gut in der Offensive als wenn jemand spielt Torwart und Ihr Teamkollege hat den Ball können Sie buchstäblich nur Ihre super und ziehen ihn weg. Es ist wirklich tödlich, seine Super sowohl in der Offensive als auch in der Defensive so eine große Kontrolle brawler, die nur das, was Gene absolut tödlich macht und dann natürlich Jungs wissen, wie wichtig das ist, hat er die Wand brechen Fähigkeit, können Sie jemanden ziehen und Art von Spaziergang in jede Richtung, die Sie wollen, um zu brechen, was auch immer Wände, die Sie wollen Gene ist wirklich gut zu brechen Wände, obwohl er Super Sie nicht denken, ist für sie bestimmt. Es ist eigentlich wirklich einfach, wenn man den Dreh raus hat, also würde ich auf jeden Fall empfehlen, das zu tun, also wird es Gene für Brawl Ball sein, wie ihr wisst, absolut erstaunlicher Brawler.
HEIST
Let's move on to the next mode which is going to be the heist. I know we said we're gonna move on to heist but let's just stop here, do not play Gene in heist now. I've actually made Gene work and competitive but I am me and not to brag or do anything like that but I've played Gene competitively more than 50% of my games for about a year now I've played Gene a ton I know exactly how to play Gene and you can more or less make any brawler work on any map as long as you know what you're doing. So Gene does not play on the heist, there's probably thirty better brawlers and Gene that are sorry don't play them on heist it's probably thirty better brawler's than him that you can play he's just not good due to the fact that heist is tanks and a button just damaged that's all it is. He's not good at killing tanks and he doesn't do a ton of damage so that just leaves Gene to be basically useless in the mode do not play him in heist not gonna go over any gameplay just don't do it.
SEIGE
So now we're gonna move on to siege here so Gene is a top 5 brawler and siege Gene is absolutely lethal in siege. He's just a beast a god here this is probably my favorite mode to play Jean in and he's good on all siege maps. He's probably the only brawler in the game that is good on every single siege map now that I think of it I think it's just him and Penny but he definitely excels on more maps and Penny does Gene is probably the best siege brawler but if not we'll play it safe and say he's top 3 or top 5 Jean is good really good for mid controls you guys can see in the mid-right here I'm just holding down the control against this Penny and you can hold control against any brawler in the game. He's very good on nuts and bolts some assembly required and junk park now factory rush she's a little bit different in but just because it's a really ranged map and you see Piper's and Brock's there a lot but he still does a good job again some so you can still use them there and actually on all those three maps I listed before use magic puffs as you're close to your teammates but on Factory rush make sure you guys are you using spirits lap because you kind of just hold your own Lane very far away from your teammates so there's no point of using that star power you can almost like three tap everybody in siege outside of the tanks so that's super important and you can pull your opponent's into the Ike which is also huge pulling them into the Ike does a ton of damage and since you're always close to your teammates and seeds you can always pull your pull the enemies close to your teammates.
There's a lot you can do with siege and Gene let's continue into the next game and keep talking about it so another thing you can do with Gene on defense is there's two things you can do you can a use your pull and pull the bots away from the Ike which means that their team is going to be close to the Ike closer than the bots and it's gonna start doing damage towards them instead of the bots thus making their damage worse or you can just target their damage dealer so there's spike their Barley their lobber their Brock anything like that and just try and take it out with your poll or just tank shots and three top it died and respawned both really applicable strategies Gene is really good on defense. He's decent on offense but defenses and was definitely where he shines so make sure that's you that you're using Gene properly don't go in and dive make sure you guys play proper defense.
BOUNTY
Let's keep talking about Gene so on to bounty now and exactly like every other mode that we have talking about we've spoken about outside of heist. Gene is a top-five route a brawler on this mode as well so he is good on every single bounty map whether it's open and there's no grass or whether there is a ton of grass he can do whatever he can either chip and just trying to get shots on open maps. He can just pinch or shoot at the grass such as on snake prairie and figure out very easily where his opponents are due to his widespread in his big range while being at a safe distance. Gene is very very good on the bounty, he has the second most range in the game which obviously is very important on bounty being that it ranges from the majority of the maps. There are some such as the one we're playing on right now where it could be more close range but even then Gene is totally fine in magic puffs is really good on the map like this or snake where everyone is close together but if you're playing a map where you want to hold your lane again you spirits lap get the additional damage, it's definitely a very good idea something very huge about genius you can almost the rete app or he can three tab almost every single meta brawler in siege so mister P, Barley, Tick, Brock, Piper the list goes on and on and it's actually really good the only ones he can't three top is another opposing Gene or like a bow but everything else that's meta in bounty he can three top and that's something that's extremely important that you could since you can just sneak up to them walk up and three tap obviously the poll is extremely meta cuz every death and bounty is very important especially the higher cups you go so that assassin poll is something that's absolutely lethal and something that's huge is he has enough HP to tank two or three well he can tank two shots from hyper unless they're using ambush star power which means it takes three shots from a Piper to kill a Gene and it takes four shots from a Brock to kill Gene and that's what makes him truly lethal and bounty the fact that he can tank shots from the two most meta brawlers in the mode.
SHOWDOWN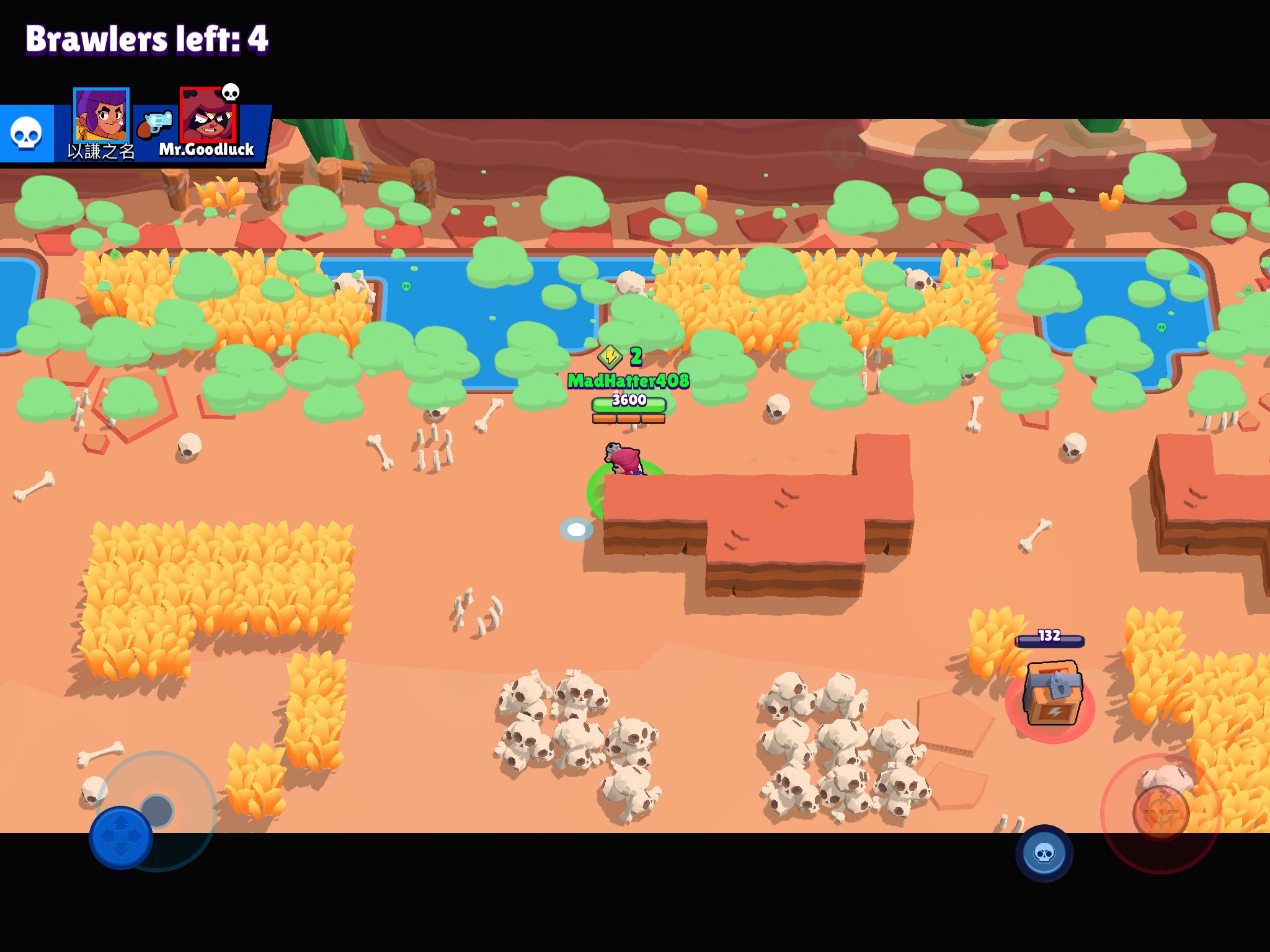 So with that being said let's move on to the final mode which is going to be a showdown and suddenly makes a showdown and duo's so top into it and let's talk to you guys about that as well so again just like I've said about every other mode of heist Jeana's a top-five in both solo showdown and duo showdown. I don't know how Gene is this good without getting a nerf you can just make him work in so many different situations that he's just always top 5 in these modes so his pulls are very lethal because obviously, you can pull people towards your teammate in duels like you can pull weak people are people that you can three top and solo showdown to guarantee a kill or if you're playing a mode with the bots um a bot can be chasing somebody around and when they're very low HP the bot being 2K or 3K HP you can just pull the bot and get three free power-ups just for the cost of your super and that makes you actually way stronger and that's a really good exchange.
I highly recommend doing that and it's just little things like this that make Gene so incredibly overpowered here so he's bad at breaking boxes which is the only thing that I would say don't try and break boxes when you're around other people because you could waste your shots they can come up to you and kill you pretty easily in duo's use magic puffs this is fairly obvious you guys are going to heal your teammates which obviously is very important and in solo showdown you spirits lap because there is no use for magic puffs so that is going to end the showdown that's gonna end all the modes that's gonna end all of my tips I've said everything I know about Gene either at the start or during this video I've said absolutely everything so to conclude the Gene guide I would say that gene is probably a top-three brawler in a game once it comes to higher trophies if you're not high up in trophies and you probably don't see as much gene dominating but the higher you get the more you're gonna see it gene truly is one of the most lethal brawlers in the game and one of the most well-rounded brawlers in the game so after learning null or after getting knowledge from this article.
ALSO READ: