Work on your thumbs guys because the upcoming huge Brawl Stars Summer update.
Brawl Stars Update – Summer Edition!
New Brawler – Tick
Tick is the latest Brawler. He is going to be released in this update. Players who have more than 4000 trophies will be able to unlock him for free via the Trophy Road.
Tick is a metal ball of barely containable energy.
His main attack is throwing proximity mines onto the battlefield that will detonate when enemy Brawlers walk over them or after a short delay.
His Super is amazing. He detaches his head and throws it on the battle field and it will go homing after enemy Brawlers until it explodes. But If you are on the enemy team, you can shoot and destroy that head before it gets to you.
Read more about him at: Tick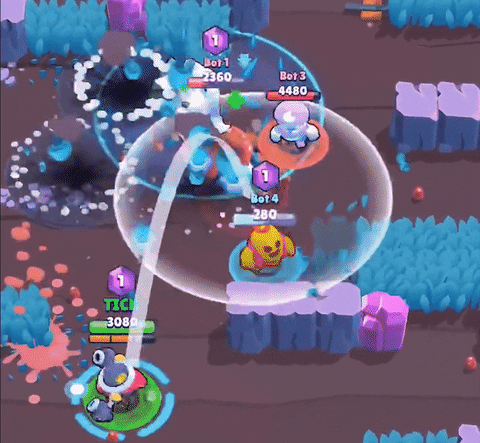 New Skins
Mega Crow, Mega Bow, Robomike and Robo Spike are the new stunning skins you want to obtain for your beloved Brawlers.
Seems like you can easily obtain them with only 150
Gems.
New Currency – Star Point
All extra trophies above 500 trophies will be converted into Star Point at the end of the season.
You can spend Star Points in the brand new shop on exclusive items like Mega Crow and Mega Bow skin:
New Star Powers
Lots of revamped Star Powers will bring lots of more funs into the game:
Shelly
Shelley you can actually notice a little yellow bar underneath her reload, which is very similar to Bibi or Leon.
Looks Star Power is going to be called bandage, sounds like a healing mechanism. This timer is the likely a charge of time for her healing ability.
Shelley will actually heal a certain amount of HP when the bar is fully charged. If she goes below a certain period of HP and that thing is fully charged. Boom! It goes all the way up and then it takes on another.
Colt
His Super deals the same amount of damage in the shot.
His new Star Power is very likely going to be named Magnum Special.
His Star Power will actually be a faster charging super so that you can use his super a lot more frequently.
Brock
He will have 4 ammo slots for Brock's regular attack.
Poco
He can likely deal damage to the enemy brawler with his super while also healing himself.
Leon
He can heal up to 600 health when he goes invisible with his Star Power enabled. My guess is that he'll actually continue healing 600 health every second throughout the duration of his Super.
Barley
His star power is very likely going to be called extra noxious. This makes me think that he'll actually deal like a lot more extra damage with his attack but the trade off will actually be that he has reduced movement speed.
Gene
You can actually see him using the pat to heal his teammates 1600 HP if it hits them instead of an enemy player. So you'll actually have to choose between healing a teammate we're dealing in or pulling an enemy and that's a really interesting trade-off.
Updating…
Stay tuned for more details!
ALSO READ: THE MINIGUNNER! NEW BRAWLER LEAK?!
ALSO READ: