Hello fellow brawlers. It is time to talk about the new update that was dropped in September 2020. The brawl talk included update information, but most importantly it included the Starr Park investment video, which we will talk about in the next article. For now, we are gonna talk about the update itself.
BrawlStarsUP Gameplay Roundup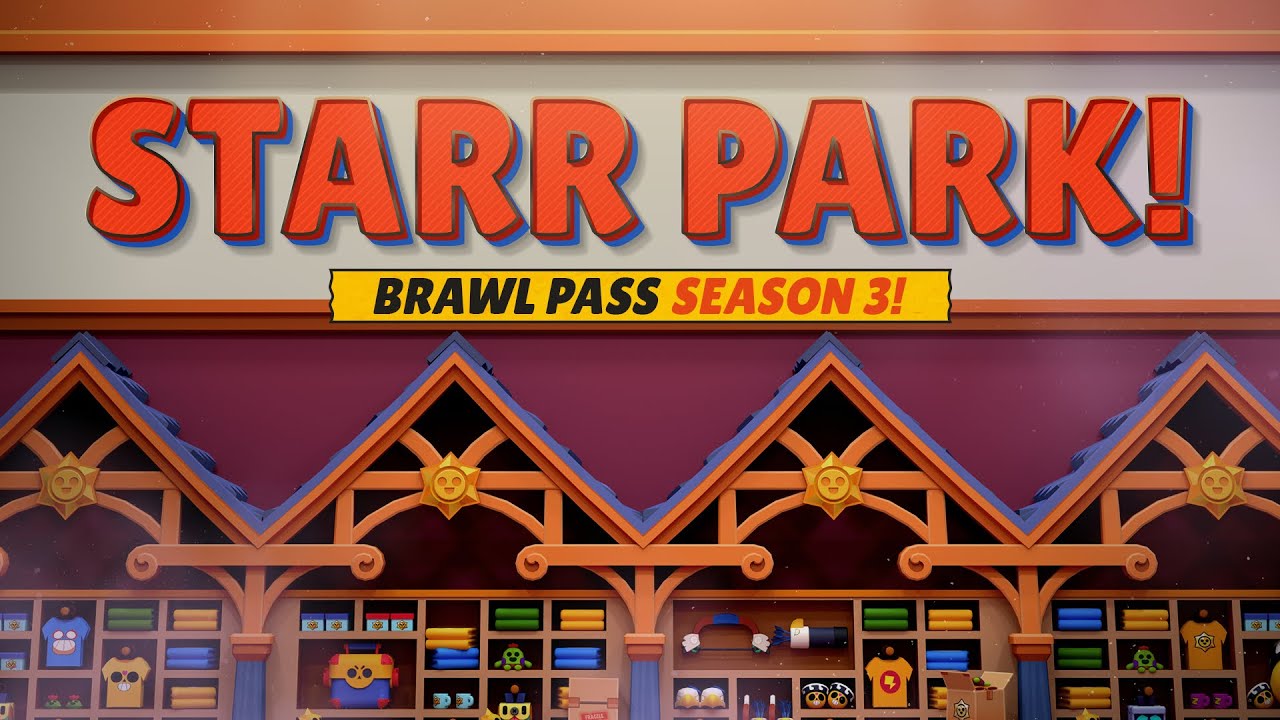 Starr Park Brawl Pass New Brawler, Colette
Colette is a gift shop cashier that loves Brawlers, mostly Piper and Spike. She is a big fan of brawlers, and she even keeps a scrapbook full of different brawler's properties.
Colette's Main Attack
Colette is the chromatic brawler for season 3, and she has one of the most unique mechanics in the game. Her main attack does 37% of her opponent's current health. This means that when she is against a squishy brawler like Tick or Bea, she would do little damage. However, that's not what she's is good at. She nails at melting tanks, (for example, Frank, El Primo) which gives her durability in the tank meta. Poco Double Tank is very diverse in many maps, which makes Colette stronger. Her minimum damage she does 500 at level 9. She deals fixed damage of 1400 (at maxed level) against special targets, including Nita's Bear and Jessie's Scrappy. Colette's reloading speed is Normal, and her range is Long.
Colette's Super
Her super is called Time to Collect, and she dashes forth and back, somewhat like Bull's super, but she comes back to where she used the super. Similar to her attack, her super also deals 20% of the brawler's full health. This means, like her normal attack, that she would do more damage against more tanky brawlers. Her super deals 2000 damage (at level 1) to special targets and this includes Heist and Siege Bots. Her super is very long, but she doesn't have a shield during her super. This is a common mistake, and without a shield, she can be attacked during her super.
Colette's Health Stats
She has 3200 health at level 1, and she has 4480 health at max level, same as Max, Penny, Jessie, etc.
Colette's Gadget and Star Power
Her gadget is called Na-ah!, and when activated, "Colette's next shot deals damage based on the opponents maximum health or doubles the damage against special targets." It is very useful when you are ending off an enemy. She exactly deals 37% of a brawler's maximum health, like her super.
Her star power is called Push It, and "All enemy brawler hit by Colette's charge are carried to the farthest point of the attack." Considering the fact that Colette has a long attack, this gives her viability against tanks even more, and even medium-ranged brawlers like Nita or Sandy. After pushing her enemy, she can attack from far to finish off brawlers.
Gift Shop Skins
Seven new skins are released in the game. They are gift shop related, and they are quality skins to enjoy the season. But if you are F2P, make sure you grind for Brawl Pass, it's more value!
Sugar Rush Sandy (80 Gems)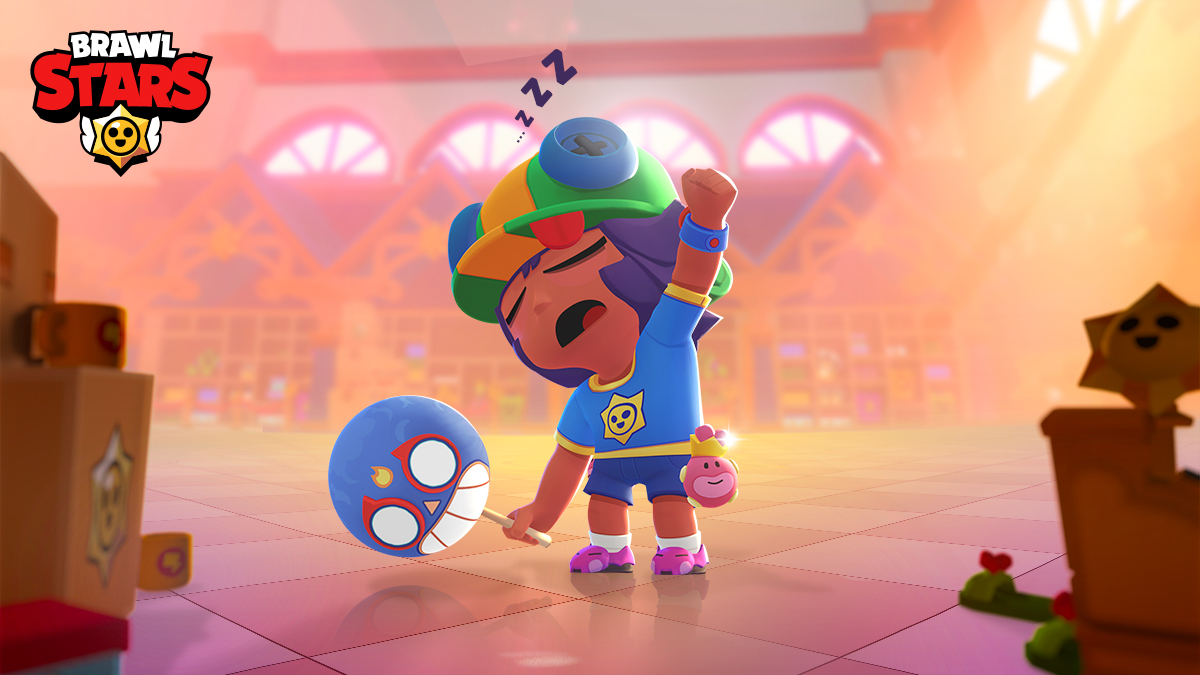 Hooray! It is finally a Sandy skin that's not a recolor! Sandy now wears a Leon Hoody and uses El Primo Cotton Candy to attack. He has an attack animation that is light blue & dark blue combination. He also has Super changes, now his super is dark blue color. Also, he carries Rosa seed pouches(?) to contain his sand. This proves that even a load of candy can't keep Sandy awake!
Also read: Sandy's Basic Information and Guide
Super Fan Girl EMZ (150 Gems)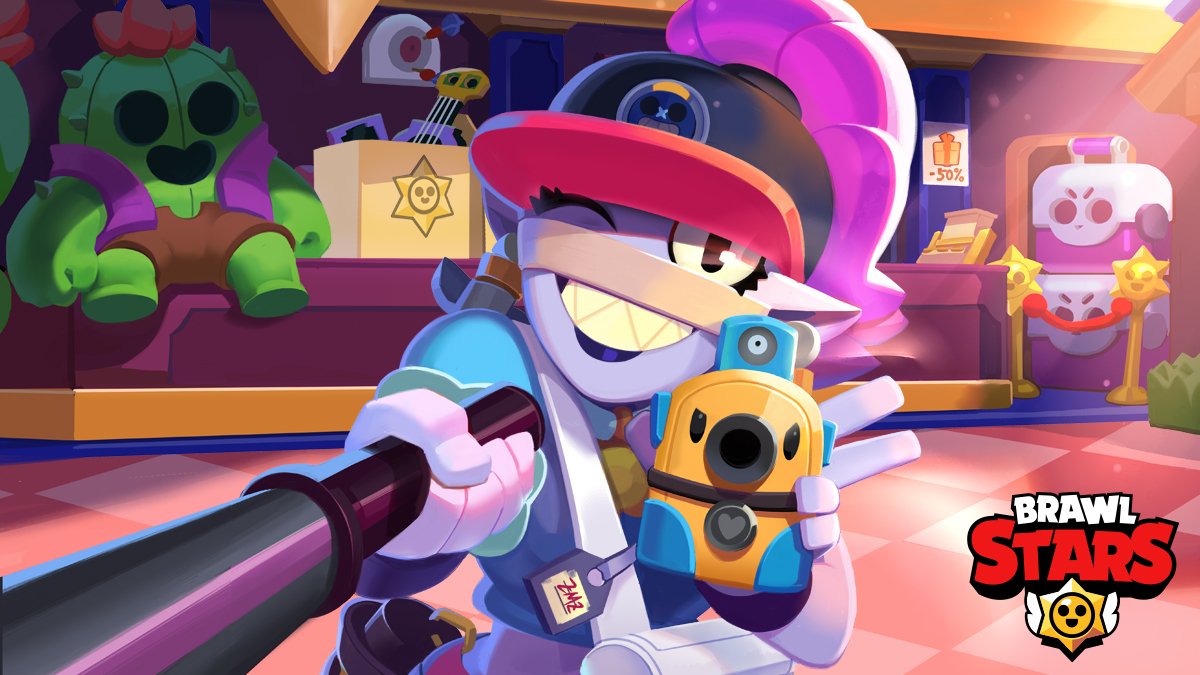 EMZ is now a super fan! She has a Scrappy camera and has an 8-bit pouch. Also, she is wearing Spike socks and Tick hat. She has a different attack animation. Her attack is similar to Sugar Rush Sandy's skin, it has this light blue foggy effect on her attack. Her super has balloons all over the place and more balloons surrounding her!
Mask Spike (30 Gems)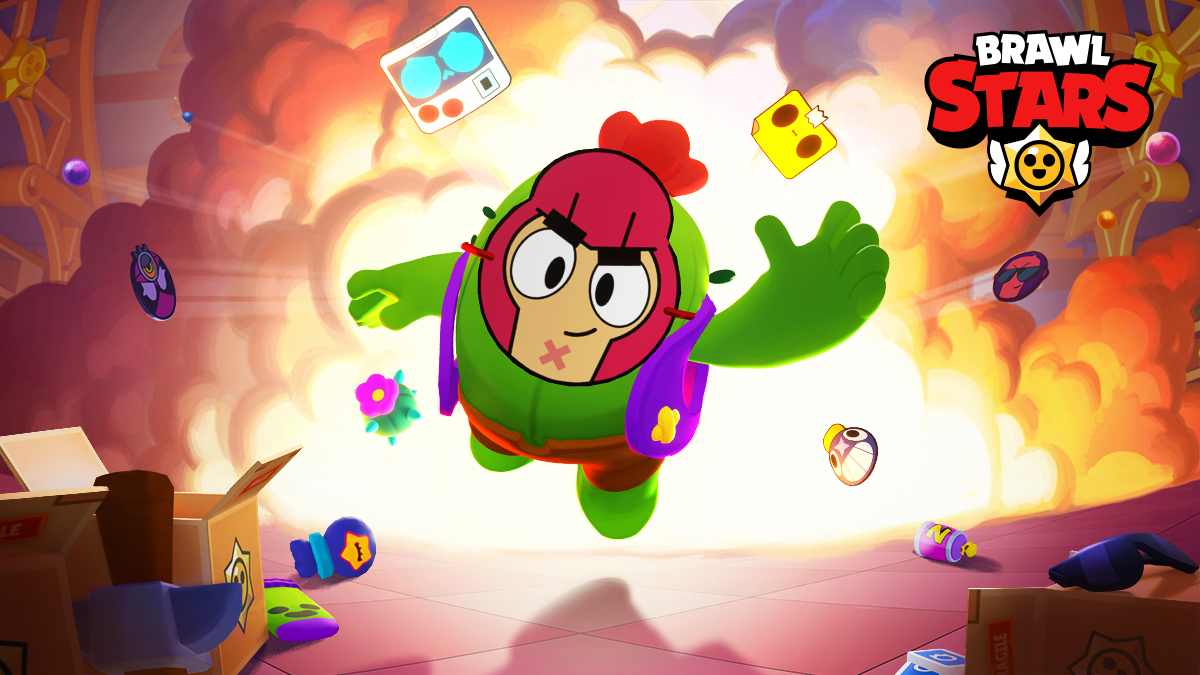 This skin is very unique, and it is a decent value for 30 Gems considering it only effects in the game. Every time you go into a match, there is a new mask Spike is wearing. There are 7 masks, 8-Bit, Sprout, Colt, Brock, Tick, Tara, and Bruce (Nita's Bear). However, he doesn't have animation changes, and Custom Effects, so 30 Gems are appropriate.
Poco Starr (Starr Park Brawl Pass)
This skin is included in the Brawl Pass, Tier 0. Poco Starr has the Starr Park hat on and has a guitar-shaped like a star. He doesn't have any custom effects or animation changes.
Trixie Colette (Starr Park Brawl Pass)
Trixie Colette can be unlocked in Tier 70, and I have to be honest with you, this skin is just amazing! It has different losing animation and winning animation. The brawler visualization is also really awesome. Also, this skin has custom effects! I mean what can you expect more from a skin?
Lunar Sprout (150 Gems)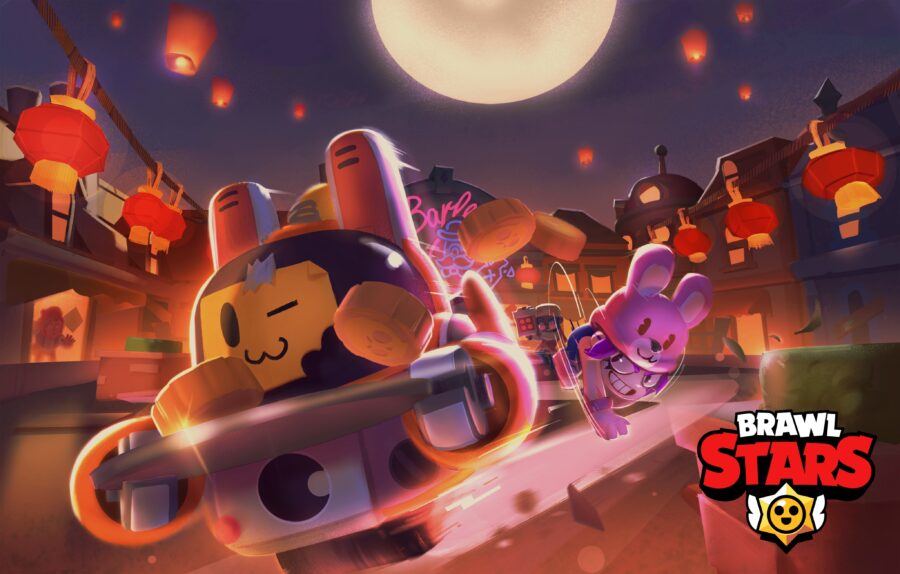 Lunar Sprout is a skin to celebrate Moon Festival in Asia including China. Moon Festival was used to celebrate and serve the Moon in east Asia. The Moon Rabbit is known to live in Moon and is pounding something in a mortar. Not only is this skin very special, but it also has stunning value. It has just astonishing winning and losing animation. Also, it has custom effects – it shoots carrot surround by Moon Rock. Its super is also Moon Rock. You can also expect mini-theme for Moon Festival in-game.
El Atomico (10000 Star Points)
This skin, in my opinion, is overpriced a bit. Even though you can buy it with star points, it still doesn't hold enough value for it. It doesn't have a custom effect nor animation changes. Only special thing about this skin is that it glows. However, I still think you can buy better value skins for Star Points.
Gift Shop Environment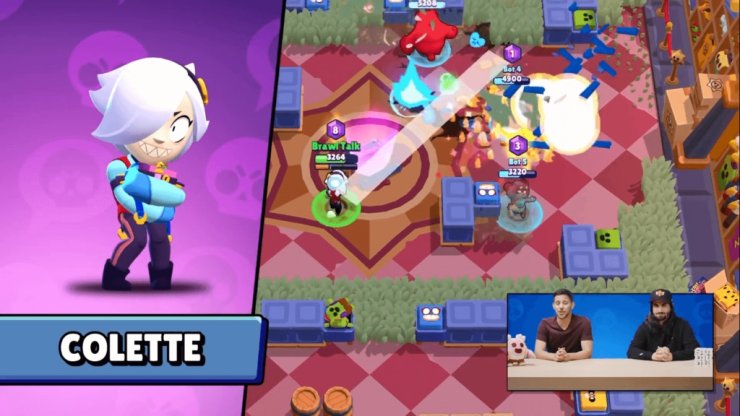 For the first time, we are getting a new theme for the "Training Cave." It is Starr Park theme-based, and it seems like it is in Starr Park. Also, there are going to be many maps that is going to change to Gift Shop Themed, like Gem Grab map Stone Fort to Merch Fort. Additionally, there are many old maps getting added back to the game, including Rockwall Brawl. There will be also new maps added to the game.
Quality of Life Changes
New Ending Screen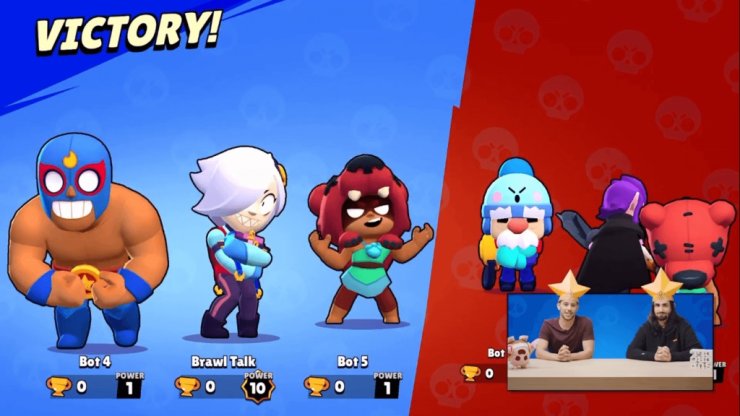 First of all, there is a new ending screen for each match. It looks clean and great.
Disable Bots
Now, you can disable bots in Friendly games. You can turn off any number of bots, you can even play by yourself! However, I think this system would be used most to 1v1 players, and for this use, a map called Purple Paradise is added. Also, This system can also be used to create content as Brawl Stars Ultimate Playerrs, and it might make streams more smooth without bots.
Free Pin Packs
Free Pin Packs are added to the Brawl Pass for Season 3 on tier 10! But the better news is another Pin Pack is also added in tier 70, but on the F2P side! This is going to give a taste of Pins to F2P, which I think would increase the use of pins.
Thank You for your time! I hope this article helps you understand this update. In the next article, I will go over Starr Park Investment Video, so stay tuned! Season 3 is going to be EPIC :)!
ALSO READ: