Spike's Basic Information
Here are everything you need to know about Spike. Click here for more Brawl Stars Characters guide!
Basic Information

 Type: Ranged Brawler
 Super Range: 7.33 tiles
 Attack Range: 7.67 tiles
 Speed: 2.5 tiles per second
 Attack Reload: 2s

 Role: Crowd Control
Spikes per Attack: 6
 Rarity: Legendary

Star Power: FertilizeAfter using Super, Spike regenerates 

800

 health per second by staying in its area of effect.
Star Power: Curveball

The spikes thrown from his main attack now move in a curving clockwise motion instead of straight, allowing Spike's attack to cover a larger area, and ultimately, hit more brawlers with his attack
Abilities
Primary Attack: Needle Grenade
Spike fires off a small cactus that explodes, shooting spikes in different directions.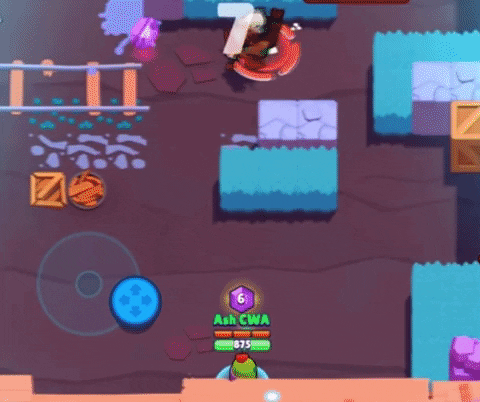 Super Ability: Stick Around!

Spike lobs a thorny grenade. Enemies caught in the blast area take damage and area slowed down.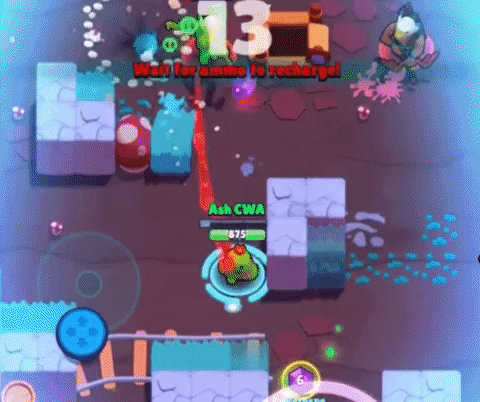 Strengths and Weakness
| | |
| --- | --- |
|  Strengths |  Weaknesses |
| Regular attack and Super slow down the enemies. | Low HP pool |
| The regular attack splits to all directions, making it easier to hit target and build up Super | Vulnerable when melee/short range Brawlers get close to him |
| Super has large AoE, dealing damage and slowing down enemies at once. | Hard to unlock him (lol) |
Best Game Modes for Spike
Matchups
Great Vs
---
Almost all the tank brawlers and medium-range brawlers can be easily countered with him. This is because of his very fast and large projectile that is very hard to dodge especially when you use his curveball. Curveball can hit every one of your shots hence making tanks and medium-range brawlers very vulnerable. Spike's Super can make it difficult for enemy Brawlers to escape. Spike and his team can deal heavy damage to them while they are trapped, and often times wipe out the enemy team.
Not Good Vs
---
Spike is insanely weak against throwers and other brawlers like Pam. He can get shredded by throwers as he can't do anything about them, so always be away from them. You can always use your curveball with your super combo which may sometimes be a good play when you are in a tight situation.
Long-range brawlers are a night mare of Spike, before the recent update Piper was able to one-shot him with her ambush star power. Try to dodge your best and use the curveball very precisely.
Upgrade Priorities
Super – Spike's Super is the strongest aspect about him. It has a large radius and both slows enemy troops and deals damage. His main use is for crowd control, and his Super is a great example of that. It also pairs well with AoE brawlers like Dynamike or Barley.
Attack – The stronger the attacks the quicker his Super will charge, and the quicker your opponents will die. Many underestimate Spike but he can deal a lot of damage if unchecked.
Health – Even though he doesn't have that much health, both Attack and Super should be prioritized first. A mere 30 health per upgrade isn't going to do much, especially since Spike hides behind walls most of the time.
Tips for Using Spike
Always hide behind walls and obstacles to attack the enemies. Due to the ability of the basic attack, you can always attack the enemies no matter how hard it is to reach them.
Spam the attacks as many as you can to charge up the Super and to distract the opponents.
Always keep the distance.
If the whole cactus hits the enemy, it deals with insane damage.
The Spikes in his attack always spread out in the same pattern, no matter your position or rotation. You can use this knowing where the spikes will land, making it easier to hit enemy Brawlers around corners and walls. The 6 spikes go at 60-degree angles.
Spike's Super is also a great tool for area control. If the enemy team is trying to escape with the Gems in Gem grab or trying to score a goal in Brawl ball you can slow them with your Super.
In Heist, all of Spike's needles will hit the safe if you stand in the middle of the safe. This, however, isn't optimal since the safe is close to the enemy team's spawn and also where they respawn, preventing you from getting close to the safe. Spike in general isn't a good pick for Heist, because of his lengthy reload speed.
While he shoots out six spikes if his attack doesn't connect, the max damage his attack can do while connecting is 4 times the damage of one spike.
Spike is underestimated by many people. Use this to your advantage by learning with 1v1 encounters Spike can burst down the enemy.
Curveball increases the likelihood of more spikes hitting a target and can hit brawlers behind walls with the spikes. Remember that Curveball doesn't affect the initial grenade.
Always calculate where your spikes and curveball exactly land, and then you would be surprised by how powerful Spike can be.
Dont hesitate to use your super on yourself for gaining health after all thats why it is a star power.
You can use fertilize especially if you know that you're going to face throwers.
ALSO READ: