Jessie's Basic Information
Basic Information

 Type: Ranged Brawler
 Super Range: 4.67
 Attack Range: 9 tiles
Speed: 720
 Attack Reload: 1.8s

 Role: Fighter/Ranged Utility
Attack Target: up to 3
 Rarity: Starting Brawler

Star Power: Energize

Jessie can repair her gun turret for 800 of its missing health by zapping it with her attack

Star Power: Shocky

Her Turret, now shoots out the energy orbs (just like Jessie), which bounce between the enemies.
Abilities
Primary Attack: Shock Rifle
Jessie fires off an energy orb. After hitting a target, the orb bounces at the next target in range, hitting up to three enemies.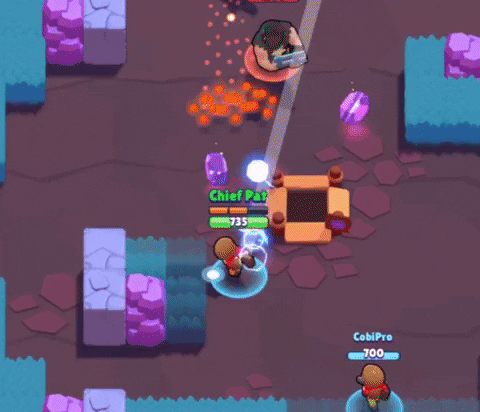 Super Ability: Last Call

Jessie deploys a gun turret that automatically shoots at enemies. It's made of 100% recycled materials!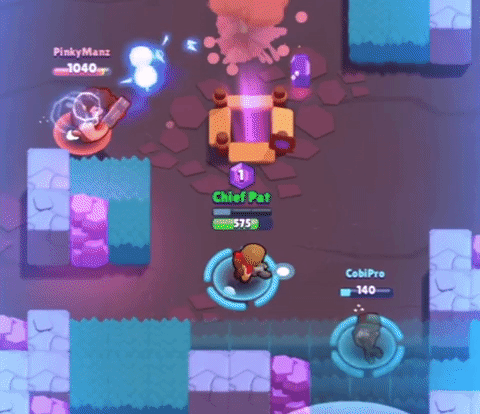 Brawl Stars Character Strengths and Weakness
| | |
| --- | --- |
|  Strengths |  Weaknesses |
| Good attack range, | Low HP |
| Very annoying Super that just can't be ignored, providing an insane utility. | Single target damage is not overwhelming but insanely high if it hits 3 targets |
| Annoying basic attack that bounces to the enemies nearby. | |
| Her turret provides insane damage output in some situations. | |
| Excellent at misdirecting the opponents. | |
Best Game Modes for Jessie
Brawl Ball
Heist
Gem Grab
Bounty
Matchups
Great Vs
---
Not Good Vs
---
Brawl Stars Character Tips for Using Jessie
If you are a new players, spam her attack at the beginning because it's likely the opponents always stay close together during the first few seconds of the match. That way it can hit up to 9 times in total.
It is easier to dodge her Super Gun (Scrappy!) so it's a must to place it next to the targets when they are on low HP.
Placing Scrappy! in the bushes is also a great way to make the enemies off-guard.
Remember, put it in the high traffic areas / bottle-neck to distract the enemy as much as possible.
In Gem Grab, always place Scrappy! in the spawn area. In Heist, always place it next to the enemy Safe.
Jessie is so good in Brawl Ball because at the beginning, the enemies stay up close.
Jessie is decent on solo kill. Place the Super on one side and target the enemy on one side. He/she have to attack either, not both at once.
Practice to use her basic attack immediately when the enemies are up close.
When the target is on low HP but there is another target next to it, attack the other target because the orb will bounce to the low-hp one.
Don't hesitate to throw the Super over the walls when your team want to take the control.
Jessie – Everything You Need To Know About Her Brawl Stars Character
by Andrew Schmitz
Jessie is a fighter brawler that is unlocked through trophy road at 500 trophies. She fires shock orbs that bounce between enemies and her super deploys Scrappy, a small turret that does small but consistent amounts of damage.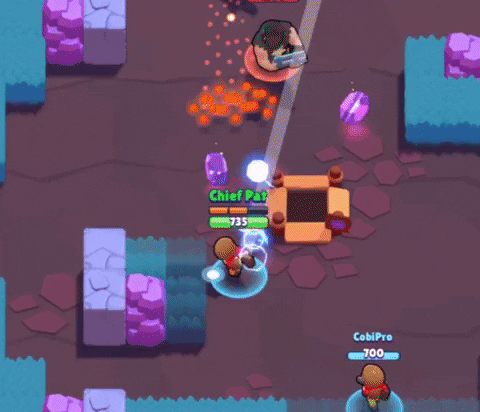 Attack: Shock Rifle
Jessie's attack is like Penny's regarding its high potential, but low one on one damage. Although, it only does around 1000 damage to a single enemy, is has the potential to hit 3 targets. The downside of her primary attack is how slow it travels. The slow projectile speed makes predicting the position of your enemies crucial to hitting targets and doing consistent damage.
Although, the projectile itself is large, it is still easily dodged. The ability to counteract the slow projectile speed separates the good players form the people that don't hit a single shot.
If you can score hits, Jessie can do an incredible amount of damage since her shots bounce between new targets. The bounces frequently hit since they are hard to dodge and are hard to predict. Taking advantage of the bounces is very important. It is advantageous to use stationary objects such as your turret (with star power), or an enemy Pam's healing station to hit multiple targets.
To get value from Jessie, you must be able to aim ahead of your targets. Auto-aiming is completely unreliable if your enemies are outside of point-blank range. However, her fast rate of fire allows for her to surprise weak enemies at close ranges.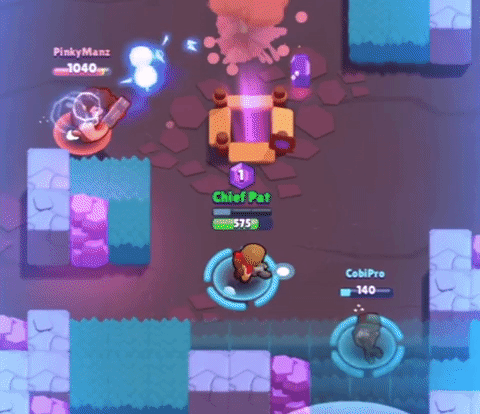 Super: Scrappy!
Jessie's turret it was what sets her apart from other damage brawlers.
Without effective usage of her turret, she just becomes a weak fighter.
Although the turret can be very powerful, it is hampered by its short range and low health. It can easily be destroyed by throwers, snipers, or powerful up-close brawlers. However, when it is left alone it can become a real nuisance, especially when since it gives you super charge when it deals damage, which allows you to have one out constantly.
Star Power: Energize
Jessie's Star Power is typically seen as one of the best. The ability to heal the turret keeps the turret up and drastically extends its lifetime. However, the real benefit is from the ability for shots to bounce of the turret and do damage to enemies while healing your turret, all without having to aim.
Brawl Stars Character Matchups
Throwers
Throwers can be very annoying to deal with. Although you are somewhat evenly matched in terms of primary firepower, their ability to throw over walls makes it very easy for throwers to destroy your turret.
With a good thrower on the enemy team, your turret can become useless. You need to either wait for the thrower to die or put in a bush at a flanking spot.
Tanks
Although tanks will make quick work of you when they get up close, your turret is great for harassing them and keeping them controlled.
They are also good targets for your shock rifle since they have a slow movement speed. Also, your attack will splash onto the damage characters behind the tanks.
Mirror Match
The mirror matchup is entirely based on who can predict movement better. It is important to be able to account for the slow movement speed that Jessie's shock orbs have.
Also, it is important to spread out when facing a Jessie. This limits the bouncing effect that her orbs have.
Damage
Although most damage characters will outclass you in most situations, your attacks do a high amount of damage and are hard to dodge when they are bouncing off other players.
It is important to try to group enemies up to get maximum value out of your attack.
Also, Jessie's relatively high health is something that you should take into account.
Snipers (Brock, Piper)
Although it is hard to hit snipers because they outrange you, hitting targets in front of them can lead to the shot bouncing back towards them. Snipers are also good at destroying your turret.
Brock will often use his super if players are grouped around your turret. Give it space to prevent him from getting extra value.
Builders
Penny, your building rival can be hard to take care of since her cannon can destroy your turret, and her attack can splash onto you.
Remember to spread out and take flanks to avoid it.  argeting her cannon can be a good play since your attack bounces off of it.
Game Modes
Jessie excels at Brawl Ball since you will often find many grouped up enemies. Also, your turret can deny the open passages of the map. She can get insane value at the very beginning of the game.
Jessie is a decent gem carrier, but gets outclassed by the 3 P's:
Poco,
Penny and
Pam. By staying in the back and deploying her turret defensively, she can be good on select maps.
Jessie is no great in showdown. Make sure to use boxes to bounce off her shots.
Siege
Jessie used to excel in siege, but this is no longer the case. Her turret is okay at controlling the middle and destroying the enemy siege robot.
ALSO READ:
[kkstarratings]