Frank's Basic Information
Basic Information

 Type: Ranged Tanker
 Super Range: 7 tiles
 Attack Range: 6 tiles
 Speed: 2.9 tiles per second
 Attack Reload: 0.8s

 Role: Tanker; AoE Nuker
Attack Radius: 3×3 tiles
 Rarity: Epic

Star PowerFrank can see and steal the power of a defeated enemy Brawler, increasing his damage by 30% for 10 seconds!
Frank – Brawl Stars Character Abilities
Primary Attack: Hammer Hit
Frank takes a while to wind up his hammer blow, but the hit is so hard, it sends a shockwave!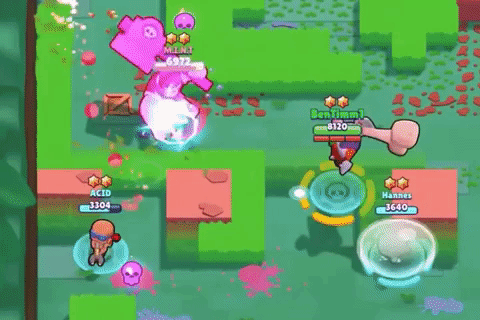 Super Ability: Last Call

Frank's greatest hit sends a shockwave that destroys environment and stuns enemies for a while.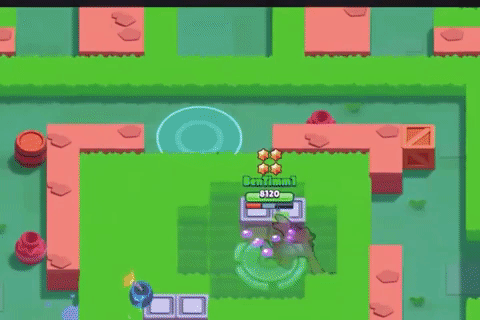 Brawl Stars Character Strengths and Weakness
| | |
| --- | --- |
|  Strengths |  Weaknesses |
| Nice HP | Weak against long attack brawlers like Ricochet or Colt |
| Can do chip attack in mid range | Can be easily kited in open space. |
| Breaking walls and obstacles nicely | Super can be canceled by some Supers. |
| In game modes that have skull power, he is super strong, can 1 hit some Brawlers. | |
Best Game Modes
Gem Grab
Brawl Ball
Siege
Matchups
Great Vs
---
Not Good Vs
---
Beginner's Guide to Using Frank
Shared by Andrew Schmitz
[toc]
Skills
---
Attack: Hammer Hit
Frank sends out a powerful attack that deals damage in a wide cone.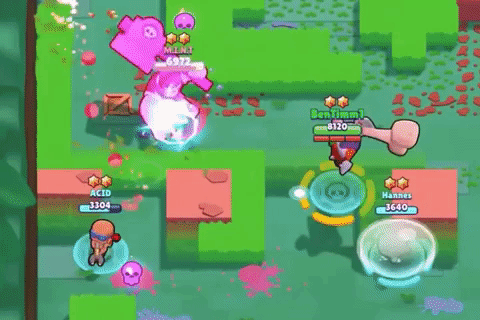 The main disadvantage of this attack is the long startup time. Frank takes .5 seconds to prepare to attack. During this time, you are unable to move, you don't reload, and you are locked to this attack. Different supers like Shelly's, Bull's and Darryl's Supers can interrupt your attack, resetting your attack.
The key to using this attack correctly is keeping your enemies at mid-range. This is where the attack is the widest and your enemies will have a harder time attacking you.
Super: Stunning Blow
Frank sends out a very powerful shockwave that destroys walls, has a larger range, and stuns enemies. The stun that he deals enables him to quickly follow up and kill them.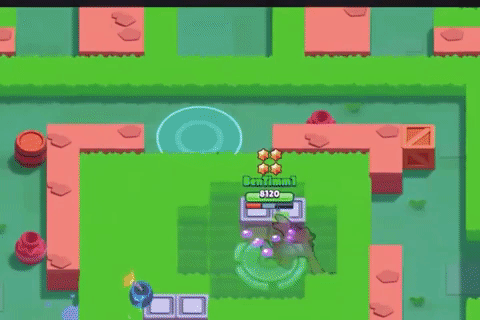 The stun period is also a great time for your teammates to follow up too.
When used correctly, this super can get some team wipes with little counter play.
However, the wind-up period makes this super a risk to use. Enemies can run away while you are winding up, which exposes yourself to a counterattack. Also, your super can also my cancelled by stun or knockback effects. These include Shelly's, Bull, Darryl, El Primo, and Gene's.
To use this super effectively, you should wait in brush to attack. This gives the enemy almost no time to react, and almost guarantees an easy kill.
The only problem you can have with this super is that the range is longer than his attack, so you may need to walk forward, and only get one attack in during the stun.
If your enemies are close by, you should be able to get 2 attacks in.
While it might seem easy to auto-aim, remember that it only accounts for the closest enemy. If your teammates are competent, they should be able to help you finish the stunned opponents off.
If you are on the same team as a Frank, and he can get a good super off, is not necessarily necessary to blow you ammo on them. Frank is very efficient at dealing with stunned enemies, as he can hit multiple in one hit.
Frank gains a 40% power boost after defeating an enemy.
Although this boost helps Frank do a bunch of extra damage, it doesn't fix his weakness of slow attack and vulnerability. It also makes you a prime target for enemy brawlers.
It can often be hard to use this ability to it's full extent, as you or your enemies will be dead by the time.
Matchups
Throwers
---
It is very hard to be able to land shots on throwers.
They will generally try to play behind walls and proceed to wither you down.
If you are able to catch one of these in the open, it will easy to kill them all in two hits.
Watch out for Dynamike's super, as it will end the attack.
As long as you are able to get throwers within your range, you can make quick work of them.
Tanks
---
Tanks are your biggest counters. If any of them can get up close, they will make quick work of you.
It is very important to keep them at your max range, or too far away for them to kill you.
Your super is a great way to care of tanks, and the supports will usually be caught within the shockwave.
Damage
---
Good damage players will be able to melt you before you can them in range and damage them.
It is important to flank and use bushes to get the edge on them.
You should be able to eliminate damage characters if you have a good positioning.
Make sure to watch out for Shelly's super because it will cancel yours.
Snipers
---
Snipers can give you trouble because they completely outrage you.
It can be hard to get them within range.
You should normally ignore snipers, unless you are able to get the jump on them. Try to avoid their line of sight and use cover to approach them.
Builders
---
The attacks of builders can give you trouble, as they will likely hit you and your damage characters tailing behind.
The best way to deal with these characters is by denying their ability to get 3 brawlers with 1 attack. Make sure to spread out! Your super is also great at destroying the walls protecting a turret or cannon, and it will also stun it.
Mirror Matchup
---
This matchup is largely dependent on ranges and the supports behind you.
It is important to try to get the first attack in and use your super first.
The winning Frank is usually the one with the best supports behind them, and who is able to get the best super off.
Game Modes
Brawl Ball
Frank's high health and surprisingly fast move speed makes him great at carrying the ball.
His super charges up fast, which enables him to shut down ball carriers or shoot a power shot.
Gem Grab
Frank specializes as a Gem Carrier.
His high health enables him to stay alive, but you need to be extremely of flankers with close-range weapons, such as Shelly or Bull.
Also, I find Gene to be a large threat as he can pull you in when you have a lot of gems, and his slow attack speed makes it very hard to fight back.
Showdown
Frank is good at maps where he can get multiple power cubes from one attack.
Always make sure to line up your attacks to be more effective at breaking boxes.
Playing Frank in showdown is quite a gamble. He can beat most brawlers in 1v1s and it is almost a guaranteed kill when you have your super.
His biggest issues are tanks and being overwhelmed by multiple enemies.
Siege
Frank is extremely good in Siege.
He is alright at getting bolts, but he really shines when he can use his super during the attacking/defending phases.
On offense, you can easily catch plenty of enemies within the super during your attack, at it stuns the IKE.
On defense, try to catch the robot and your enemies behind it to put your opponents push to a terrifying halt.
---
I hope you enjoyed reading this guide on Frank. If you have any questions, please put them down in the comments.
[kkstarratings]