Dynamike – Brawl Stars Character Information
Basic Information

 Type: Ranged Brawler/Thrower
 Super Range: 7 tiles
 Attack Range: 7 tiles
 Speed: 2.5 tiles per second
 Attack Reload: 1.7s

 Role: Nuker; Splash Damage
Attack Radius: 2×2 tiles
 Rarity: Starting Brawler

Star PowerDynamike can ride the blast wave of his explosives to jump over obstacles.
Dynamike – Brawl Stars Character Abilities
Primary Attack: Short Fuse
Mike tosses two sticks of dynamite, passing over any obstacles in the way. The fuses are cut as short as Mike's explosive temper!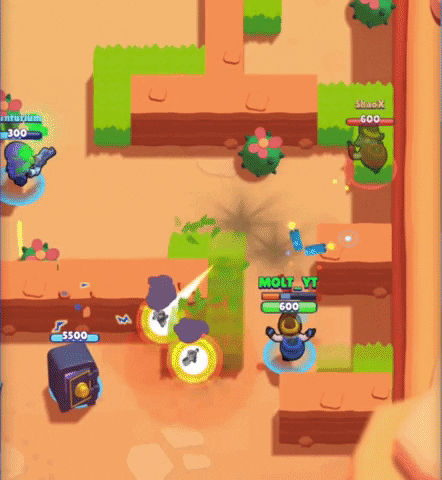 Super Ability: Big Barrel o' Boom

A big-bada-barrel of dynamite blows up just about everything. Enemies get knocked back on impact!
Strengths and Weakness
| | |
| --- | --- |
|  Strengths |  Weaknesses |
| Huge AoE damage | Due to a small delay, players need to practice a bit. |
| Provides great control to the map | Low HP. |
| Strong on defense | |
| Super has huge damage and destroys obstacles. | |
| Can attack over the walls. | |
Best Game Modes for Dynamike
Heist
Gem Grab
Showdown
Brawl Ball
Brawl Stars Character Matchups
Great Vs
---
Not Good Vs
---
Tips for Using Dynamike
Always try to stay behind the walls to make the most of his "throw" ability. Keep the distance to the enemies.
At the beginning, throw all of 3 basic attacks to the bottle neck, high traffic areas to easily kill the enemies.
Lead the opponents to cover with your basic attacks then use the Super to finish off hiding foes.
He is best at sneaking in and deal tons of damage in Heist.
Learn how to use his Star Power to jump over obstacles.
Beginner's Guide to Dynamike
Please do note that this guide is a bit obsolete.
Dynamike is a common brawler with low-medium health (700) at the base. He is one cheeky fellow as he attacks over walls by throwing his dynamites at the enemies.
His attacks are pretty deadly if he manages to get a few mites on somebody.
His super is a large barrel which he throws at enemies. The bomb is really deadly as it has quite a large radius, knocks back enemies, destroys obstacles and does 540 base damage.
He is more than capable of handling enemies both at long range and short range. But he does get killed before killing others because of the time it take to throw the dynamites and the time the dynamites take to explode.
Still, he is a really good character if you know how to use him. Which you will after you read this guide.
Now, lets talk some stats.
Health
Dynamike has a decent amount of base health at 700. This goes up to 875 at max.
Previously, his health was 600 but was was changed to 700 because Supercell though he needed a buff (which he didn't).
However, this was met with much backlash from the player saying Dynamike was getting overpowered.
So, most likely in the next balance changes, Dynamike's health will most likely be needed to either 600 or 650.
Attack
"Short-tempered Mike is always moments from blowing up, just like the two lit sticks of dynamite he tosses."
Mike throws two sticks of dynamite at a time that blow up after a short period of time and deal quite a bit of damage to enemies caught in its blast radius.
The two sticks do separate bit in midair and land a bit farther away from each other so maximum possible damage is dealt. His base attack is 180 and goes up to 225 at max level.
Super
"A big-bada-barrel of dynamite blows up just about everything. Enemies get knocked back on impact!"
Mike throws the barrel full of gunpowder that he carries on his back.
The bomb can be thrown a fair distance and when it detonates, it deals very high damage to enemies within its large blast radius.
Any surviving opponents will be stunned and pushed back, allowing mike to finish them off.
Strengths and Weaknesses
Strengths
A very good crowd controller.
Denies a lot of area in different maps.
Useful for killing that last guy/girl running away from your teammate because they didn't have enough ammo to finish them.
Very good to play if you have mastered physics or geometry.
Weaknesses
Generally requires another teammate's help in taking down most elusive or tacky brawler.
VERY weak to snipers.
Will make you rage if enemies keep running away.
Matchups
Shelly
A very tough nut to crack for Dynamike but not impossible.
Strand away as far away as possible and predict where she'll go and fire away. You might want to block off any exit path with bombs so either she'll be trapped in an area or shell have to take damage from your bombs. Just make sure you don't get in her poking range.
If you do get in the poking range, throw your Super at her. She'll either run away and stop chasing you, run into the bomb and get knocked back so you're out of poking range or run into the bomb and get killed.
Colt
Being a long range character, Colt has an immediate advantage. He can safely poke mike from far away. As I have stated in my other guides, weave and dodge.
Colt can't turn while attacking. Use this to your advantage. Get closer to him and kill him.
Nita
Nita does have some good range.
To counter her, get behind a two way obstacle. Meaning, there are two ways to exit the hiding location. If you see her come from the left, go from the right. And vice versa.
If you see her bear then try and kite both of them on the same side. If you can't, then book it.
Dynamike
The old mirror matchup. Be smart.
Know that the enemy has the same tactic as you. Zig zag so that the mirror mike doesn't know where to throw his bombs.
He may do the same so, keep spamming bombs until one of you kills another. Who's the real mike? We shall never know.
El Primo
Run like a coward and throw bombs behind you because there's no other way to defeat him as mike.
If he uses his Super, then use your super to back him up away from you.
Bull
The same as above. Except the super part.
If you're near the side of the arena and he changes towards the arena wall near you then book it as its your chance.
If he comes at you vertically then you can just step aside because most likely he's gonna be going another place.
Brock
A tamer Colt. Do the same as I said with Colt but be more careful.
He may shoot only 1 rocket but those things hurt and have a huge hit box.
Barley
Basically you except robotically, he substituted EXPLOSIVE damage and obstacle destruction for more area denial.
Treat him as a better Mike and blow his screws off.
Jessie
Another sniper sorta character.
Her bullets bounce off others so make sure you don't get hit or your whole team's gonna get hit.
Treat her as a slower Colt.
Ricochet
Colt with bouncy bullets.
He's header to take out behind obstacles since he also can shoot from behind walls.
Make sure that he doesn't get a good position.
Poco
You can safely take him out from behind a wall.
If he starts chasing you, treat him like El Primo or bull.
Bo
Most of the times you need another teammate to help you kill Bo as he's just too powerful for Mike.
His attacks are more accurate and deal more damage.
His super is annoying. Just make sure that you bring along a teammate to flank and counter him.
Piper
The true sniper of Brawl Stars. Be very careful.
Take your time to move around obstacles to take cover from her bullets. Don't let her build her charge up. Then throw dynamites at her until she gets trapped in a corner.
If more people are trapped with her, throw a big bomb there cuz why not.
Pam
She'll most of the time hit you if you are trying to run away so instead hide behind cover and throw dynamites at her.
If she throws a healing station down, most likely her teammates will flock to it. This is a good moment to throw the bib bomb at the station.
Best case scenario, whole team dies or become critically injured. Worst case scenario, you deal some damage to her station.
Mortis
GG RIP. What you can do is kite him to you team mates so that he either runs away or gets killed by your teammates.
Most likely you will die.
Tara
Better keep the distance. She is so OP right now so the best way to deal with her is to throw the bombs over obstacles.
Spike
Use your teammates as him as meat shields and bombard him with attacks from all sides.
Crow
A very elusive one. Do the same as Mortis.
He is overall slower than Mortis because he doesn't have a dash attack. This may give you a fighting chance.
What you do have to remember is that he has a very good escape Super. So don't go throwing your big bombs all over him.
Brawl Stars Characters Guide and Strategies for New Players: 8-BIT
ALSO READ:
[kkstarratings]