Crow is one of the fast travelers with a movement speed of 2.5 tiles per second. Being a legendary brawler he is really hard to obtain.

Crow – The Toxic Assassin
"This enigmatic creature just appeared in town one day. Nobody dares to ruffle his feathers…not anymore"
He is an assassin which means you should use him like an assassin and not a tank killer like shelly.
He can deal insane damage with poisoned blades up very close if you go very near brawlers.
Crow – Brawl Stars Character Information
Basic Information

 Type: Ranged Brawler
 Super Range: 8.33 tiles
 Attack Range: 8.33 tiles
 Speed: 2.5 tiles per second
 Attack Reload: 1.5s

 Role: Damage Over Time
Attack Radius: 3×3 tiles
 Rarity: Legendary

Extra Toxic

"Crow's poison saps the strength of enemies, who deal 20% less damage while poisoned."

Carrion Crow

"Crow deals +120 damage with his attack and Super to targets with 50% or less health."
Abilities
Primary Attack: Switchblade Poison Damage
Crow throws a trio of poisoned daggers. Enemies nicked by these blades will take damage over time.
Switchblade Crow throws three poisonous daggers in front of him, one straight in front of him and two on either side that spread out slightly as they travel.
His trio of poisoned daggers damage enemies when they hit them. His poison saps the strength out of enemies and poisoned enemies are slowed.
This can deal extra damage over time equal to the amount of damage dealt by the initial impact to the target until the poison wears off over time.
His attack has long-range and the poison effect prevents the enemy brawler from automatically healing.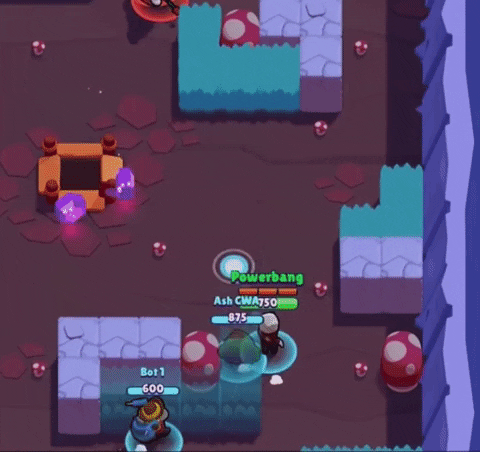 Super Ability: Swoop

Crow takes to the skies, throwing a ring of poisoned daggers around him both on take-off and landing.
Crow jumps into the air and throws 14 daggers radially that spread out as they travel. He then glides to his destination, and when he lands, he throws another set of 14 daggers radially.
The ring of poisoned daggers are identical to the ones Crow uses in his main attack. While in the air, Crow is completely immune to all damage besides damage applied over time, including the poison gas that closes in during Showdown.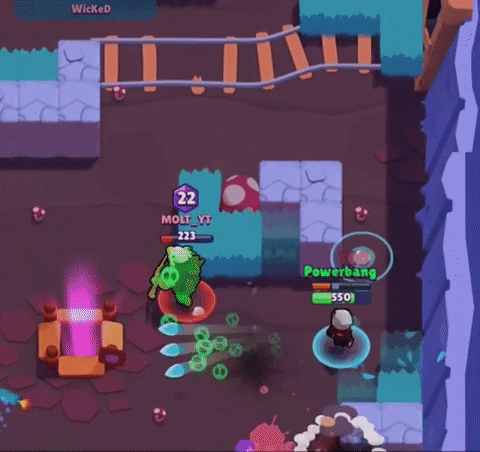 Brawl Stars Character Strengths and Weakness
| | |
| --- | --- |
|  Strengths |  Weaknesses |
| Very fast | No burst damage |
| Long attack range | Low HP. |
| Does damage over time, excellent in long battles. | Can't break walls. |
| Great at kiting enemies. |   |
| Can escape using his super. |   |
Best Game Modes for Crow
Showdown
Bounty
Brawl Ball
Gem Grab
Brawl Stars Character Matchups
Great Vs
---
Not Good Vs
---
Brawl Stars Character Tips 
You always want to make the most out of his range so always keep your distance but at the same time keep ur enemy in range so that you can attack them but they can't hit back.
Once in combat try to keep your enemy always poisoned so that they can't regen and if in case they try to run away using the bushes the poison will reveal their location.
You should save up your super so that you can use it to run away or kill your opponent who is running away.
Always keep in mind that crow has low hp so you don't want to play too aggressive. You don't wish to end up being next to a Primo/Bull.
Don't roam in the open always take cover and peek around the corner to shoot. That way you can deal damage while staying unharmed.
Crow works best against short-ranged Brawlers. His poison prevents them from healing, and his speed allows him to chase after them and also retreat if they attempt to attack you.
Carrion Crow allows you to pick off lower-health targets with ease. Let someone else damage a brawler to half health, then poke them until they're finished.
Crow's Super is extremely useful, and should not be wasted. Despite the high close-range damage Crow has, it is best to poke at the enemy, and using your Super to either chase or get close to a lower health brawler.
Crow's daggers do little damage by themselves, but their poisonous damage-over-time effect results in Crow's victims taking double the damage of the initial hit alone.
5 Things we love
captain crow's poison stack

gadgets defense booster crow

phoenix crow's projectiles

Crow's fast reload speed
How To Use Crow
Crow's poison prevents the poisoned Brawler from self-healing for 4 seconds more than the normal healing time (3 seconds) since the poison causes them to take damage for an extended period. This can really hinder an enemy team's ability to quickly regroup.The poison damage also causes the Brawler to appear while in the grass, so it also prevents Brawlers inflicted with poison from hiding for a time.

Crow is a great poker that can finish off low health enemies or continuously prevent isolated brawlers from regenerating health and force them to retreat.

Crow's Super is a viable escape tool. If you are low on health with Brawlers approaching, use his Super to fly away. The ring of daggers will damage the Brawlers both on take-off and landing.
Never quickfire your Super when low on health, as it will dangerously launch you toward the closest enemy.
Because Crow has low health, stay a distance away from other brawlers. Crow also doesn't do much damage at a close range.
Crow's very fast movement speed can be used to dodge most slow attacks i.e. Brocks and Beas rockets and drones, so use this to your advantage to juke and waste the enemy's ammo.
An advanced aiming tactic is to try to hit 2 daggers at a medium-range away from your enemy, by aiming slightly to the edges.This gets easier the closer your enemy is to you, however at one point it's simply better to Autoaim to have all 3 daggers hit a target.
Overall, Extra Toxic is the better star power for both Duo and Solo Showdown.Since survivability is the number one priority, reducing your enemy's damage is much more important than finishing someone off more easily (with Carrion Crow).

Extra Toxic's damage reduction is percentage-based, it also scales with your target's powercubes, giving you a better chance against enemies with more powercubes than you.
ALSO READ: