Colt – Brawl Stars Character Information
Basic Information

 Type: Ranged Brawler
 Super: 11 tiles/12 bullets
 Attack Range: 8.67 tiles
 Speed: 2.5 tiles per second
 Attack Reload: 1.6s

 Role: Sharpshooter
 Bullets per Attack: 6 bullets
 Rarity: Starting Brawler

Star PowerColt's movement speed is increased by a pair of slick new boots.
Abilities
Primary Attack: Six-Shooters
Colt shoots six straight long-range shots out of his revolvers.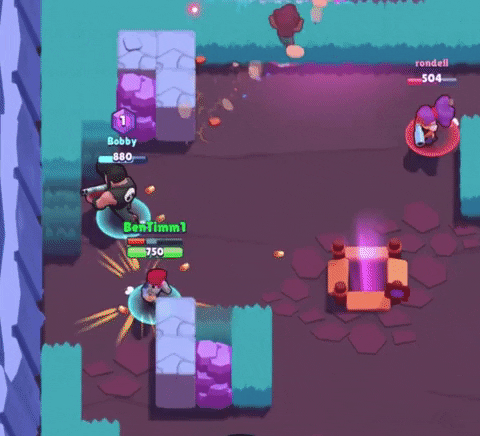 Super Ability: Bullet Storm

Colt rattles off a massive burst of bullets that shoot extra far and destroy cover.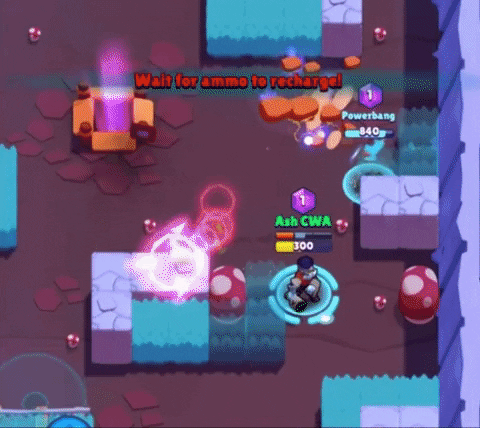 Strengths and Weakness
| | |
| --- | --- |
|  Strengths |  Weaknesses |
| High damage output. | Lacks utilities. |
| Excellent in long ranged fights. | No crowd control, escape or gap closing abilities. |
| Super can shoot through and destroy walls. | Can be one-shot by strong Brawlers. |
| Bullets flying over time based on your moves | Not easy for beginners to use |
| Great attack ra | |
Brawl Stars Character Matchups
Great Vs
---
Not Good Vs
---
Simple Guide to Using Colt
By SuyogThePun
Please note that this guide does not include the latest information on Colt and we have updated his character details in more recent posts. Please search "Colt" in search field to get the latest information!
Who Is Colt?
"Town Sheriff and resident hair model, Colt enforces the law with long range accuracy and a mighty smile"
Colt is a supreme attacker and somewhat of a sniper. He has a pretty long attack range but rather slim width. If in the right hands, he is one of the deadliest character in the game.
In a 3v3 situation, it is best if he stayed back and sniped the damage dealer of the other team. Dude to his attack being fast and deadly, this shouldn't be a problem. Then stay back and help your team defeat the upfront attackers.
If all three of his attack bursts hit an opponent then even El Primo will be defeated. Mind the If. It is pretty hard to connect all of the bullets on an opponent.
Health
Like most of the brawlers, Colt also has 600 health so he is pretty squishy. But this won't likely be a problem seeing how quickly he can take out an opponent.
Attack: Six Shooters
His most deadly weapons. He fires in a straight line dealing massive damage, firing 6 bullets, dealing 80 damage each bullet. His attack speed is moderately fast so sometimes you can to miss the shots.
He requires to shoot twice to take out any brawler and can take out even El Primo with three bursts.
While he may seem OP, but the truth is, it is pretty hard to get all shots on the opponent. Most of the time you will only get 2 or 3 bullets on the opponent using him. So this balances him out pretty well.
Super: Bullet Train
Colt fires a mountain of bullets which are wider than than his normal bullets and they break blocks making it easier to kill hiding Dynamike and Shelly.
Matchups
Shelly
With Colt being a long range character and Shelly being a short range, I'd say this is a pretty easy matchup. Keep your distance and fire during precise moments.
Just watch out for her super.
Colt
A mirror matchup. The one which has the better understanding of Colt will obviously win. Keep playing mind game on the opponent.
Go offscreen from the left and then attack from the right. Make sure that you have ammo in case the opponent charges you (which will most likely result in their death).
Brock
Brock is at a disadvantage because even though both of the brawlers are long range, Colt's attack has a much higher chance of hitting the opponent.
In addition, Colt also has a much lower ammo recharge time than Brock. Charge Brock and keep weaving while pummeling him down. His primary attack and super shine the most in closed spaces. So don't engage him there.
Jessie
She imposes pretty low danger to Colt
Even though her attack and super are pretty deadly, they are just so slow and easy to avoid just keep weaving and shooting and she'll be dead in no time.
Nita
Do NOT let her get close. Her attack deals pretty high damage so she'll constantly chase after you. It's best to run and shoot back.
Her super spawns a bear which is easy to take out but ultimate diverts your attention away from Nita.
So focus Nita and keep running.
Dynamike
He is a pretty tough nut to crack because his strategy is being sneaky and throwing bombs so that you can't get close to him.
The trick is to keep run after him and then back up once you see him throwing dynamite. His super is the same thing but is bigger, deals more damage and knocks your back.
Play smart and he'll be defeated in no time.
El Primo
This has been repeated in every guide but STAY AWAY FROM HIM.
Once he get close enough to engage you, it's pretty much goodnight. Stay way from him and you'll be fine. Watch out for his super though. If it connects it is a guaranteed death.
Bull
Like El, keep away. He has a small range but is pretty strong and hefty. Keep as much distance from him as possible and keep attacking.
If he uses his super, step out of his way and keep shooting at him. This way you'll finish him for good.
Ricochet
He is pretty much like you except he sacrificed health for bouncing bullets.
In a 1v1 situation, you will have to be aware of your surroundings and keep him in your sight.
Remember, he can attack you even if you can't attack him. So weave and keep him in your sight.
Barley
He is really just like Dynamike but with more area denial.
Just stay clear of his attacks and don't get yourself cornered. Instead, charge and make the opponent pay for choosing Barley.
Poco
You would not believe the amount of times I have died because of Poco. Either because he healed his nearly dead teammates or because he keeps running away and fires back with his stupidly massive attack radius.
Stay out of his attack radius and you should be fine. Just make sure you defeat him before he heals.
Mortis
One of the most challenging matchups. He can just gets shots on you and then run away easily, all while you don't even get a single shot on him. I've found it much easier to defeat Mortis while he is trying to run away than while he is attacking you.
So tank his attacks and while he is running away unleash a bullet hell on him. When you see him using his super, RUN.
Bo
He is a challenging foe. His attacks not only deal lots of damage but they also splash, meaning it's very hard to hide from him.
So the best mode of attack is to get him to an open space then weave and dodge him until you defeat him.
If you see him activating his super, get out the way quickly.
Piper
She is almost the same as Brock. Firing 1 shot at the time from far away dealing huge damage. Piper however lacks AOE so if you can safely hide near a wall.
Since she deals more damage the farther she is away from you, she will likely run as far as the spawn to get maximum damage. Use this to your advantage. Dodge and weave to not get hit and get close to her to finish her off. Not too close though. She will likely just use her super to jump out of your way and finish you off.
Spike
He is pretty strong so I would not recommend just standing there and attacking him.
Run in zig zags and defeat him. Don't get caught in his super though. This will most likely result in death.
Crow
His poison daggers are pretty strong. They stop you from healing and do continuous damage.
Stay as far away from him as possible because in doing so it'll be easier to avoid his attacks and gives you more time to avoid his super.
Upgrade Priority
All three of his stats are pretty important to upgrade. But some are much more likely to be helpful than the others.
Colt is pretty squishy with only 600 health. If you want to survive those 3v3 battle and want to clutch your way to victory. It is more beneficial to upgrade his health before others.
Next is his attack. With 480 damage per burst he is pretty strong. But once you start going against people whose health is much higher than before. You'll start understanding why you should upgrade attack.
Finally, the Super. For much of the game your super will take out any opponent no matter how much they have upgraded your health. So it really doesn't seem logical to upgrade the super in the early game.
HP → Primary Attack → Super
Conclusion
This is my first guide on Brawl Stars Ultimate Player and I wanted to cover my favorite brawler for this occasion.
Thank you guys for reading this and I hope you have learned how to play Colt in a professional manner.
If I have stated anything wrong or missed something, please state it in the comment section.
Available Skins
ALSO READ:
[kkstarratings]