Brock – Brawl Stars Character Information
Basic Information

 Type: Ranged Brawler/Sniper
 Super Range: 8 tiles
 Attack Range: 10 tiles
 Speed: 2.5 tiles per second
 Attack Reload: 2.1s

 Role: Map Control; Splash Damage
 Rarity: Starting Brawler

Star Power
The impact of Brock's attack sets the ground on fire. Enemies in the area take 240 damage per second!
Brawl Stars Character Abilities
Primary Attack: Rockin' Rocket
Brock lets fly with a single rockin' rocket that really goes the distance.
.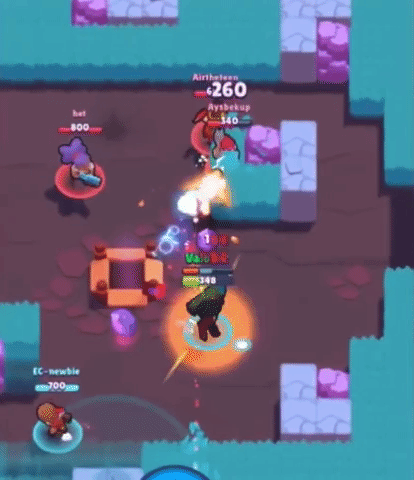 Super Ability: Rocket Rain

Brock fires a rocket barrage that takes out enemies and obstacles. He only wants to see you bathing in the Rocket Rain.
Brock Strengths and Weakness
| | |
| --- | --- |
|  Strengths |  Weaknesses |
| High damage. | Lacks utility. |
| Super long attack range. | No Crowd Control Abilities. |
| Can destroy obstacles with Super. | No Escape or Gap Closing Abilities. |
| Super can instantly kill low-mid HP targets. | Normal attack can be dodged easily. |
| Lethal in open space maps. | |
Brawl Stars Character Matchups
Great Vs
---
Not Good Vs
---
Tips for Using Brock
Aim at the choke point or high traffic area.
Don't hesitate to use his Super to destroy obstacles, giving you more sight to fire rockets.
Try not to use his Super on only one Brawler. Use it to kill multiple Brawlers and walls at once.
Predict the enemies movement before then enter the bushes and pre-fire before they are there. Most of the time they will get hit.
Practice, practice and practice. Brock is not an easy-to-use Hero so you need to predict the enemy movements a lot.
Always fire from far away. Always keep the distance. If the enemies get close to you, you will get lots of troubles.
ALSO READ:
[kkstarratings]