Want to know what is Starr Park? Starr Park.biz is a location in Brawl Stars where players can battle each other. The Star Park location is home to a variety of obstacles and power-ups, making it a popular destination for players looking for an edge in battle.
BrawlStarsUP Gameplay Roundup
Star Park.biz is a popular spot for tourists and locals alike, thanks to the many Starrpark amenities and attractions.
Starr Park 2022 Updates
Have you seen the latest Brawl Stars Animation: Year of the Tiger? If you haven't you may want to check it out. It is interesting because it is the first time they allowed us to take a peek behind the Starr Park entrance!
Starr Park Brawl Stars Guide: The Beginning of the Lore
On February 8th of 2020, Brawl Stars community member named Gamba posted in Reddit and claimed that Brawl Stars was actually a theme park. He pointed out many clues on why the Brawl Stars was a theme park.
It was really hard to believe back then. Many people thought that Brawl Stars being a theme park is a weird idea and most people didn't believe it. I mean, who would think an action-based video game is related to a theme park?
COULD BRAWL STARS HAVE A FUTURE IN IGAMING?
Four months later, on August 20th, many community members in Brawl Stars started noticing 8-bit (a brawler in-game) acting weird. If you tapped on him eight times, you gained access to 8-bit's core memory and mini-game, called Project Laser.
Project Laser was a name of Brawl Stars during its build. This game was about 8-bit finding his memories back by going through game stages. The game was based on Brawl Stars, since there was Brawl Stars brawlers in the mini-game.
Brawl Stars Guide: What is Starr Park Corporation?
A couple of weeks later, on September 1st, Gamba, the same person who came up with the theory that Brawl Stars is actually a theme park, received a mysterious package with a laptop in it with a note saying "You are on to something."
On that laptop, there was a link to starrpark.biz, which included the collections and photographs of Starr Park. Players kept asking is Starr Park real? The website confirmed that Starr Park was a theme park and it included a lot of clues about Starr Park. Players even tried multiple variations of the site such as starrpark.bizz – starpark.bizz – staar park just to name a few.
It seemed, however, that the Starr Park was not actually a happy place. The photographs proved that something dark and fishy was going on back then in Starr Park.
On the same day that the package was delivered, a unique audio clip was played on WKBRL stream. It warned a Brawl Stars Brawl Stars Ultimate Playerr, Rey-Brawl Stars, to stop giving out information about Star Park immediately. Later, more community members get a warning from the SP Corporation. Later we will talk about what this meant.
Packages
On September 5th, everything got crazy. Many content creators were sent a package with various items, and some items in the packages differed from others.
KairosTime was sent a blueprint of Starr Park map. Lex-Brawl Stars was sent a Snowtel robe, a set of slippers, and a letter. Rey-Brawl Stars received a roll of stickers with letters S.P.U.D.E. I will talk about these later, as they serve really important parts.
WKBRL Stream Shut Down
The same day this all happened, something even crazier went on in WKBRL stream. Max's energy drink that was placed on the WKBRL radio was spilled all over the place and a voice appeared over the stream.

The dialogue went for about 25 minutes and it included a lot of information about Starr Park. Also, it proved even more that something dangerous was going on. Whoever that was trying to share the information was in trouble. The lights turned off and the sirens started ringing.
The Brawl Talk – Starr Park
On September 6th, a countdown appeared in Starrpark.biz and when it reached 0, the Brawl Talk was released.
However, the Brawl Talk glitched more and more until it became clear that something was up. The Brawl Talk started breaking down and we got to watch the Investor Video.
It included so much easter eggs that we are going to talk in this article very soon. It showed the Starr Park in its time and looking at the quality of the video, it was filmed a long time ago.
10 hours after the Brawl Talk, WKBRL stream was back on stream and it kept repeating "This Is Normal."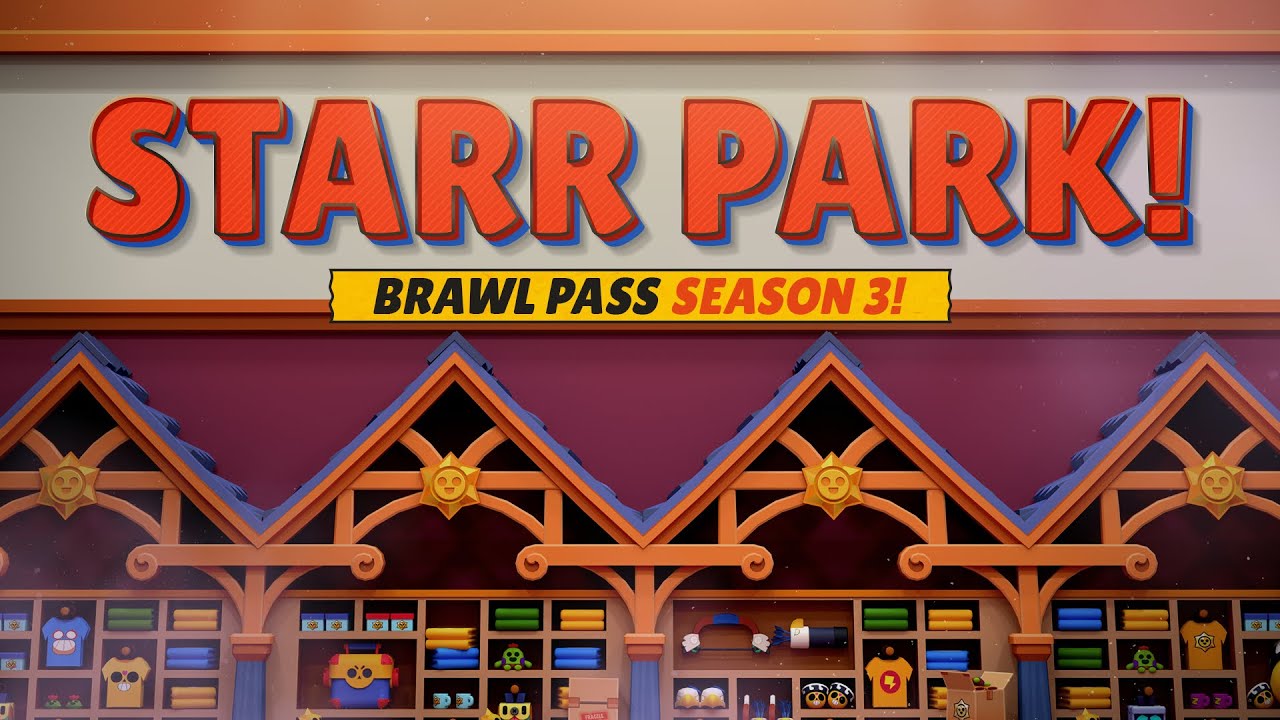 To summarize what we already know, "Starr Park is an old amusement park that was shut down in the early 70s. To the general public it was a place to go and have some fun." However, it was obvious that something dark was going on. "
They were experimenting with mind control, mutation of human DNA with toxic chemicals, the creation of weaponized robotics, and a whole lot of other sketchy stuff." Something must have happened to the park that it was forced to shut down completely.
Starr Park – Who is trying to tell us the TRUTH?
The people who are trying to tell us the truth is S.P.U.D.E. Throughout the Investor Video, you will notice S.P.U.D.E. stickers. There are 1 on a table, 2 on Baggage Blaster Cart, and one on Control Console. One of the most recent photos added to the Starr Park website is a community poster:
You can notice SPU-DE. BRL in front of the S.P.U.D.E. is probably a reference to WKBRL stream. You can see SPU separated from DE. S.P.U.D.E. might stand for Starr Park Union of Distressed Employees. They work at Starr Park and are trying to send us a hidden message. These include not only mascots, but rogue S.P.U.D.E. who currently work in Supercell.
These people are trying to tell us the truth. The laptop leading us to the Starrpark.biz was sent from Supercell yet no Supercell managers have commented about it.
The S.P.U.D.E. could have put the 8-bit mini-game in to Brawl Stars. Not only that, but they could also have added Starr Park crowns all over the maps.
This group of people might be responsible for creating the WKBRL Stream – their warnings were to mention that Starr Park executives are aiming at them. Additionally, they could have sent the packages to the content creators.
What are S.P.U.D.E.'s Goal?
The S.P.U.D.E.'s purpose it to warn us. That is the whole reason they created WKBRL stream. There were letters BRL in the community poster which refers to WKBRL. The last monologue that happened in WKBRL is when the person trying to share the information is captured and the sirens go on.
These sirens were to warn people who were in charge of Starr Park. However, if you listen carefully to the Investor Video, you would hear the exact siren in the Control Console.
This proves that WKBRL was on site while Starr Park was open. You can also confirm this even more. If you hear carefully, when the guy in the Investor Video gets replaced, you can hear the single line of "This is Normal."
"The sirens were to warn people"
The members of S.P.U.D.E. used the Investor Video as an opportunity to reach out for help and warn people about the dangers of Starr Park. Two people on the picture above blinked a message to us – their message was "Danger."
That is not the only warning. At the end of the video, you can see the dancers singing. If you play the clip backwards, you can hear "Help Us." Also, the host of the Investor Video had the gall of stalling the Starr Park executives long enough to buy enough time for someone to get very important message out to the world. Yes, the monologue at the end of WKBRL stream.
The Guy in the Penguin Suit
The person who sent out the message was the guy in the penguin suit in the clip where dancers were singing. Before the monologue, he was talking and leaving in the WKBRL stream. You can see the guy in the penguin suit getting in trouble in one of the scenes because he kept leaving.
In the dancing scene, you can see the guy in the penguin suit dance, but later on, he falls unconsciously in the back. He must have gotten brain-washed so badly or killed. When the sirens rang, the host of the video knew that he didn't have much time. So he left us with one last message.
If you reverse a clip before the host got swapped, you hear this: "In the future, children control us with the glowing rectangles." What are glowing rectangles? Smartphones and tablets. Who are the children? Us, playing Brawl Stars.
Who are the Executives of Starr Park?
Last Brawl Theory, we talked about how Mr.P was evil. Lex-Brawl Stars got a postcard from snowtel manager with his last name initial P. But if you think about it, who would want to give their name out when they are source of evil. If you rearrange the letters, it is: Hotel P/Bihorn. Bicorn.
What does Bicorn mean? Two horns. Who has two horns? The devil. This means that Mr.P is the source of evil in Brawl Stars. What's Mr. P's real name? Mr.Paananen, the CEO and Co-Founder of Supercell.
There is a battle going on between Starr Park Corporation and members of S.P.U.D.E. The Starr Park Corporation's goal is to find out who are the members of S.P.U.D.E., so they can brainwash them. The goal of S.P.U.D.E. is to tell everybody Supercell's evil plans without revealing who they are while also trying to figure out who are trust worthy.
I don't think it is a coincidence that the first thing that Starr Park host says in the Investor Video is "The Time to Explain is Now." In the No Time to Explain animation, Shelly tells Colt "No time to explain." This might have not been a joke. It could have been a warning to all S.P.U.D.E.
But hey, it's just a theory, a BRAWL THEORY. Until next time, Peace!
Final Word
This post includes a round-up of Starr Park updates and everything you want to know about Starr Park: View insights on what is Starr Park and insight on the Brawl Stars map.
Make sure to check out KairosTime. Permission was given to write about KairosTime Gaming's Content for this Brawl Stars Guide.