Today, we're gonna talk about Poco. As with all my other brawler guides, we're gonna look at his mechanics, an in-depth look at his stats which game modes and maps are going to be the best to push with him to 500
and even higher. Then we'll talk about high turn mechanics and tips, as well as how to counter Poco.
[toc]
Poco – Basic Information
It is very easy to use him. Because it's relatively easy to master him due to the width of his a shot.
If you're only facing one opponent, there's almost no reason to manually aim your shots. That being said manual aiming his shots does become more important in team fights, when you can aim to hit multiple brawlers at once or if he's maxed out, manually aim to heal a teammate while dealing damage to an enemy opponent, even then his attack is very forgiving with manually aiming.
If you suck at manually aiming your shots, it was really great to learn that skill with this super covers.
A large radius makes it almost a guaranteed heal and you can also auto-aim his super so that it will actually heal the closest friendly brawler without full HP.
The two things that are difficult for new players to understand when you pick up Poco for the very first time are:
How not to stay closer to the enemy brawler.
Poco wins the long fight, not the first fight.
Once you understand these two things, you'll have everything you need to know to master Poco.
| | |
| --- | --- |
| Strengths | Weaknesses |
| Extremely long attack range | Low HP |
| Great Basic Attack Radius | Basic attack has slight delay, needs to be practiced |
| Great vs Groups of Troops | Super has a delay casting time. If he dies while casting the Super, the rest will not occur. |
| Easily throw attacks over the walls/obstacles | Bad vs Melee Brawlers if they can get close to him |
| Super does insane damage over time | |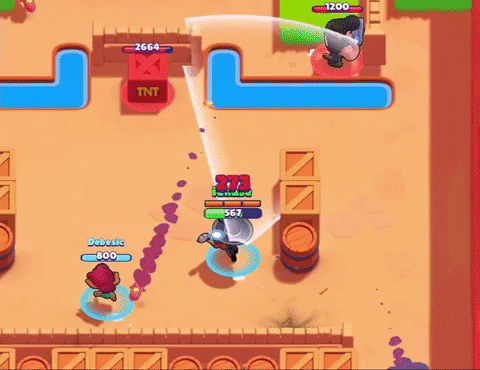 Main Attack: Power Chord
Poco's main attack power sends out a wide spread of music that deals damage a low amount of damage and affect multiple targets.
His widespread allows him to get a lot of value in team fights, allowing him to charge up his super very quickly.
Keeping range from other brawlers is important because it doesn't matter how close he is if an enemy brawler gets hit it gives the same amount of damage.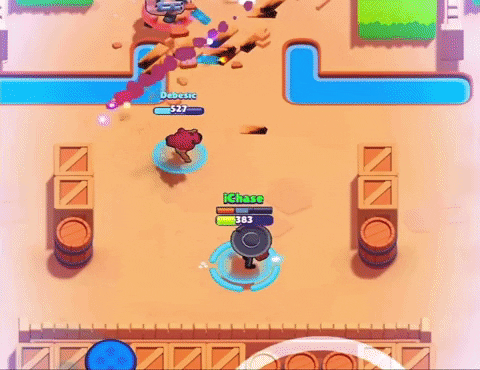 Super: Encore
For his Super, Poco sends out a much nicer, more pleasant sound and heals a pretty good sizable amount of HP and no it does not break walls like it did in the alpha testing of Brawl Stars.
Poco's super is very good at supporting high health teammates like
Bull or
Frank when they start to lose HP.
He can also heal himself up in a pinch.
One interesting thing about Poco's super is that it is one of two supers in the game that will fire through walls without destroying them.
Star Power
When Poco's attack hits friendly brawlers, it will heal them for 400 health.
If you're using Pocos attack just to heal teammates, you don't get very much value in comparison to how much as you can actually deal on enemy brawler so most the time it's actually more beneficial for you to use it offensively.
However, one great way to utilize this is in team fights where he can both heal the teammates and deal damage to an enemy player.
You probably should not prioritize purchasing this star power unless you really like Poco.
Stats
Basic Information

Type: Ranged Brawler
Super Range: 8.5 tiles
Attack Range: 7 tiles
Speed: 2.5 tiles per second
Attack Reload: 1.6s

Role: Map Control; Healer
Attack Radius: up to 4 tiles
Rarity: Rare
Now let's take a look Poco stats and compare them to how they rank against every other brawler in the game.
His lowest rank is going to be his attack, where he has the lowest damaging attack against a single brawler in the game but to make up for that, it has a very high reload speed which means that Poco is very strong in long battles. He can deal a lot of damage over a period of time surviving by recharging is super and using it when necessary.
On the flipside, Poco really struggles against burst brawlers who focus on dealing a ton of damage really quickly, who has a shorter range than most of the brawler's in the game. It's actually the shortest out of all of the Gem Carriers in the game which is a very important interaction for Gem Grab.
He has the slowest moving speed in the game. Along with the majority of the other brawlers, he has relatively high health points. Paired that with his super, he actually has very high survivability.
It takes Poco longer to charge his super than most brawlers against one target however if three players are bunched up he can charge up his super with only two quick attacks.
Best Modes for Poco
Let's talk about the best modes and maps to play Poco in if you want to push them up to 500 trophies or beyond.
Bounty & Heist
It is not recommended playing him on Bounty or Heist. He just doesn't have enough burst damage to do well on either.
He can be pushed early on in showdown, especially with the survival strategy or even duo showdown, where you can actually utilize his super to heal up a teammate, but his two best modes for pushing are going to be Brawl Ball and Gem Grab.
Brawl Ball
In Brawl Ball, you want to focus on controlling the field and also keeping your ball carrier alive.
With his wide attack, he can control large parts of the map and deal lots of damage over a period of time, especially where brawl ball tends to have a lot more team fights than other game modes.
In Brawl Ball, it is very important for you to at least have one other teammate on your team, who can deal a lot of damage quickly, in case the enemy team has a tanker brawler like
El Primo or
Frank or something like that.
Poco just cannot handle alone when facing against those tanks.
Gem Grab
In Gem Grab, Poco is a Gem Carrier. Your role is to carry all the Gems, support your teammates and most importantly, you should always prioritize staying alive over taking out the enemy team.
This means that you need to fall back when you need to heal and you should be very careful about not overextending yourself into the enemy's side of the map, in case they might surprise you, take you out and grab some easy gems and run away.
If you're having a hard time taking out the enemy Gem Carrier, you can focus on going one of the side brawlers and to be wanting them with one of your teammates.
Advanced Tips for Poco
1. Poco has one of the fastest unload speed in the game at 0.3 seconds.
This is the amount of time that it takes for Poco to fire off a shot before he can fire off a second shot. Because Poco has a fast unload speed and a fast reload speed this actually means it can be really beneficial for Poco to spam fire all three shots at an enemy brawler and then fall back until you've reloaded.
2. Poco actually can attack around a corner.
How much it curves around the wall depends on Poco's position with respect to the wall. If Poco is actually too close to the wall, very little of his attack will actually curve around it. I think this is because of how the sound waves travel or something like that.
3. Due to his wide shots, Poco is a great brawlers to force enemies into corners or behind walls
So that you and a teammate can actually come around them and pinch them.
4. When most brawlers have to fall back in order to heal, Poco has the unique benefit of a burst heal
This means that Poco can actually stay somewhat close to the heat of battle and keep firing off his shots if the situation calls for it. Because this will allow him to charge up his super, first heal himself back up to mostly full health and then stay in the match even when he has had low HP.
5. Pay attention to how close you are to charge up your super.
When you don't have the super up, the enemy team will underestimate you and you can use that to your advantage if you know it will only take one or two more shots before you can heal up and then quickly burst heal.
6. You have a special role as an active healer.
Pay attention to not only your own health but also the health of the other brawlers on your team. Once you have mastered that, one trick is to use the super to heal teammates when they're at about 50% HP rather than when they're almost dead. The reason why is because this way your super should reach them before they die rather than after. Nothing is more embarrassing for Poco than healing somebody after they've died because that doesn't work.
7. The best way to use Poco's star power is to both heal a teammate and deal damage to an enemy player at the same time.
One of the hardest decisions with his star power is knowing whether which choice to make if you have to choose between healing a teammate and taking out an enemy brawler.
In Brawl Stars, defense is more important than offense in every single game mode, but typically using an attack to heal 400 HP is not as beneficial as dealing more than double that amount of HP to an enemy brawler.
There are a lot of things to consider with this and does take some time and practice to master this, but typically I follow this rule:
If you can save your teammate from dying, heal them up.
If they are likely going to die regardless of whether you heal them or not, then use it to focus on the enemy player instead.
8. When Poco gets countered by every single other brawlers, he still works so well as a Gem Carrier in Gem Grab.
He works super well because Poco is not a 1v1 brawler, he is a 2v2 brawler.
When Poco has a tanky teammate like
El Primo or
Nita on his team, he can utilize his Super to not only heal himself but also a teammate from a long range away, allowing them to win their lane and then come and to be one or 2v2 the enemy team and that is why Poco rocks so well. It does depend on the team comp but if you're on the right map, with the right team comp he's an absolute beast to deal with.
Quick Tips To Counter Poco
1. Try and keep your distance from Poco.
Most brawlers can out range a Poco and if you actually attack at max range and then fall back, Poco can hardly do anything against you, unless he's willing to take some damage in order to get up close enough where he can actually hit you.
2. Try to burst him down.
The best time to attack Poco is before he has charged up his super or immediately after he has healed up with his super. Paying attention to how charged up his super is, you can easily go in during those two moments and almost ignore his attack because it does so little damage and then take him out before he's able to actually recharge the super.
3. Tanky brawlers can typically ignore his attacks because they do so little damage.
I mean it actually takes Poco nine hits to take out an El Primo and that takes a long time.
That's all of the tips to play and counter Poco. Thank you for your time and see you in our next article.
By KairosTime.
ALSO READ:
[kkstarratings]