Leon's Basic Information
Basic Information

 Type: Ranged Brawler
 Super Delay: 0s
 Attack Range: 9 tiles
 Speed: 3.1 tiles per second
 Attack Reload: 1.9s

 Role: Stealthy Assassin
 Blades per Attack: 4
 Rarity: Legendary

Star PowerWhen Leon uses his Super, he gains a boost of movement speed for the duration of his invisibility.
Abilities
Primary Attack: Spinner Blades
Leon flicks his wrist and fires four Spinner Blades. The blades deal less damage the farther they travel.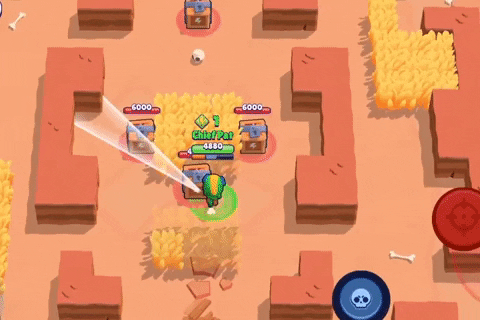 Super Ability: Smoke Bomb

Leon becomes invisible for 7 seconds. If he attacks, he will be revealed. Enemies close to Leon will be able to spot him.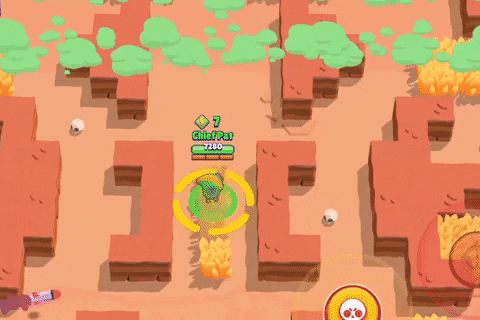 Strengths and Weakness
| | |
| --- | --- |
|  Strengths |  Weaknesses |
| Easily kite enemies to build up Super | Vulnerable to AoE skills |
| Super makes him invisible, super useful on both offense and defense | Small hit box |
| Excellent movement speed | |
| Heavy burst damage output | |
| Can work alone | |
Best Game Modes for Leon
Showdown
Bounty
Gem Grab
Heist
Matchups
Great Vs
---
Not Good Vs
---
Instant Guide to Using Leon
Shared by Andrew Schmitz
Leon's Abilities
---
Attack: Spinner Blades
Leon shoots 4 spinner blades in a row, from left to right. The attack does 700 damage at max level, and 500 at level 1. This gives him the ability to do 2000-2800 damage at close range.
The damage starts falling off at about 3 tiles. He has a 2.3 second reload time, which is a little above average. It is important to reload before engaging.
Super: Smoke bomb
Leon goes invisible for 10 seconds.
Enemies can only see Leon if he attacks, touches a gem or power cube, and touches the Brawl Ball.
Leon will also be revealed if he goes within 4 tiles of an enemy. You can use this super to get around the enemy for a surprise attack, escaping spawnables or going behind enemy lines to finish off their safe.
Star Power: Smoke Trail
Leon can go much faster when he has his star power, enabling him to approach enemies faster.
Matchups
---
Throwers
All of these matchups are purely reliant whether or not Leon can get close to his target.
It can be tough to take out throwers if you do not have surprise to your advantage, but if you do, two auto-aims to the face will take them out instantly.
Use bushes and your super to burst them down, and they will be easy targets.
Tanks
The key to killing tanks is to stay just out of their reach as you kite them away.
Primo and Bull are very ineffective since their movement speed is less than yours. While their attacks do none or barely any damage, you can safe damage them from afar.
Alternatively, you can burst them down when they are not looking at you.
If they manage to surprise you, and pop out of a bush, you are likely dead, except you have a higher chance of survival against Pam.
Regular Ranged Damage
These matchups are all dependent on distance.
At close ranges, you have the upper hand. However, these damage characters can win if they pick you apart form far away for they get a good super off.
Snipers
Snipers are easy pickings when you can surprise them and are great targets when you have your super.
Try to finish off Piper before she can super away.
Watch out for the incredible burst damage from Brock's barrage.
Do not engage snipers if you are far away, unless there is cover. Snipers also have slow reloads, so if you see them blow their shots on a box, engage them immediately.
Builders
Jesse and Penny have weak attacks in 1v1 situations.
Try to isolate them and take them out form behind, as their attacks will not splash onto the rest of your teammates.
Also, focus on taking out Penny before her mortar as the mortar shots are relatively easy to dodge with your high movement speed.
Basic Strategy For Leon
---
Leon have a unique style of gameplay reliant on stealth.
You can win most battles if you're able to get the jump on your opponent. Therefore, your whole gameplan needs to be designed around using stealth to ambush your opponent.
Because of this, every game, in each gamemode should have one plan:
Built up charge on your super
This should be done carefully, as Leon as fragile. Use bushes to your advantage. You need to get your super ASAP.
Now, you can really start to unleash havoc on your opponents.
Sue your super to go behind the enemy and take out their support, sniper, or thrower. Then, dash away before the rest of their team can gang up on you.
When engaging enemies, there are three things you need to remember: going within 4 tiles reveals you, you gain health while invisible, and make sure you have ammo.
Most of the time, three auto aims from point blank will take your target out and almost charge your super back up.
Closing
I hope you enjoyed reading his guide on Leon.
If you had any questions, please put them down in the comments.
If you love Leon but don't have him, check out our guide on unlocking brawlers and the best ways to spend coins and gems.