Hello fellow brawlers, as most of you know, Brawl-O-Ween is here! Brawl-O-Ween is Halloween theme in Brawl Stars Update for October. Before we get into the details, let's go over what happened between the last brawl talk and Brawl-O-Ween one.
Brawl Talk Hints?
If you were caught up with most of the Brawl news in the community, you probably know when Brawl Talk was to arrive. Something that gave people the idea of Brawl Talk in October was when Ryan, the community manager said, "We will see you in October." In this picture above, next to the "bird not clean," there is a marking "10-10" which most people supposed as October 10th. Also, in the WKBRL stream, the pointer directed 10, 0, 10, 0, 20. If you remove 0, it is 10-10-20, meaning October 10th, 2020.
New Fire Brawler?
However, we didn't get a Brawl Talk, but instead, we got a change in WKBRL stream. Instead of saying "This is normal," it said, "We already told you, this is normal." Note that there was a burning noise in the background, and many people thought it was a clue to the next brawler. Another clue leading to the next brawler was a picture that Supercell posted when Collette's second star power came out
On Collette's scrap book, you can see a burnt page with the letter A. There are no brawlers in the game that has a name starting with A, which indicated a new brawler. There were countless hints of this brawler, and we so far knew that he/she was a fire breathing brawler.
On October 16th, when many people were getting hopeless that there won't be a Brawl Talk, Brawl Stars on social media left a picture of a Mexican themed town and a note, "Brawl Talk Tomorrow."
Brawl Talk
The new theme for this event was Poco's Band Stand.
New Brawler
First let's talk about the newest brawler, Amber. As most people predicted, her name started with letter A and her attack was related to fire. She is a legendary Brawler, and she also belongs to the new theme and Mexican Trio. Amber is an entertainer and competes with El Primo and Poco. She has a unique mechanic where as long as she aims the attack button, she will attack continuously. Her super is a puddle of oil which she can ignite with her normal attack.
For more information, she still has an ammo bar meaning she doesn't have infinite ammo!
Skins – Save up your gems if you want these skins when the Brawl Stars Update drops!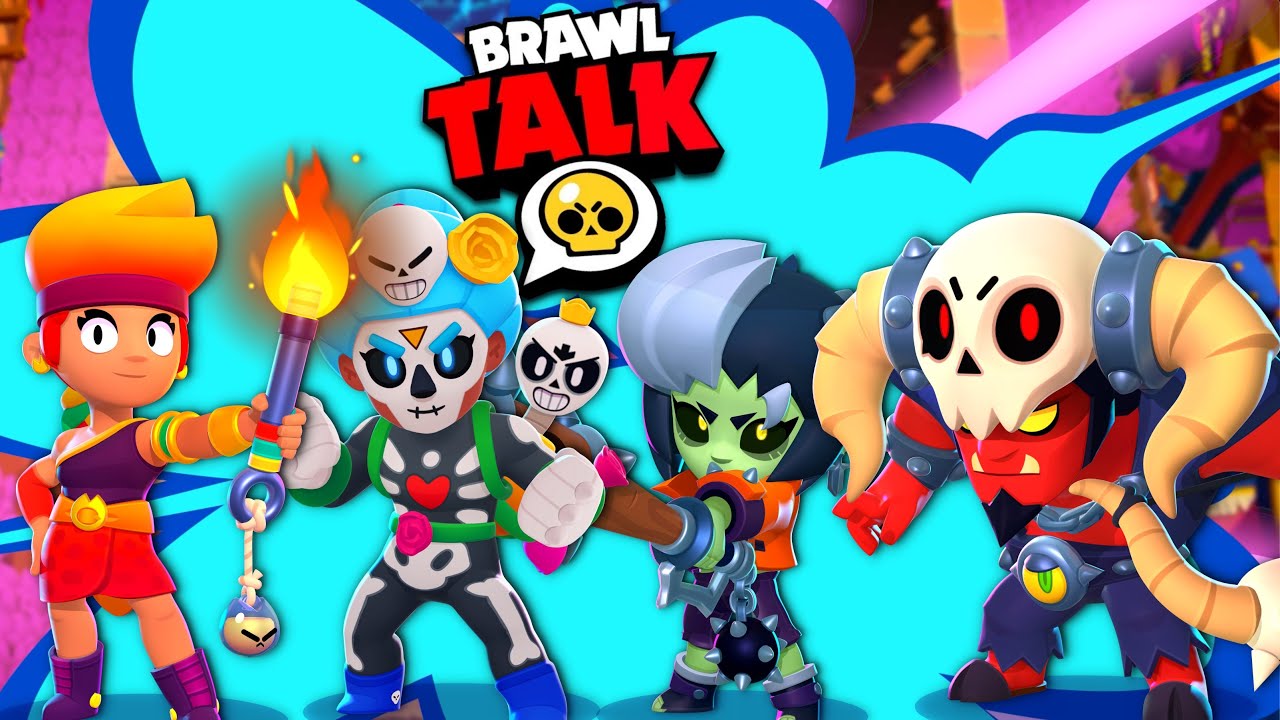 Underworld Bo
Many of you probably know this skin as "Demonic Bo." This skin won the Supercell-Make for Bo skins along with the Horus Bo. Looking at the Brawl Talk, he has different custom effects (known as attack effects) and probably will have super change, too. This skin is most likely to cost 150 gems.
Notice that this skin is not exclusive to Brawl-O-Ween.
Zombibi
This skin is also Supercell-Make winner for Bibi skins. She has different super animation that looks like a ghost! That by itself is worth the gems! She seems to have a slight normal attack change. Zombibi will probably cost from 80 gems to 150.
Notice that this skin is not exclusive to Brawl-O-Ween.
True Gold and Silver
There are also 5 new pairs of True Gold and Silver skins. Those brawlers are: Bull, Barley, Rico, Mortis, and Frank. Remember that to buy True Gold skin, you have to buy the silver one first. True Silver costs 10000 coins and True Gold costs 25000 coins.
BRAWL-O-WEEN Rosa
Finally! The moment that we all have been waiting for, Rosa is finally getting a skin! Not only that, but you can unlock the skin for free in Brawl-O-Ween challenge which you can also earn gold and star points. If that's not appealing enough, there is also a pack of exclusive Brawl-O-Ween Rosa skin pins! *Rosa is also getting a change to her default animation.
Notice that this skin is not limited, but the pins are.
Brawl Stars eSports
The Brawl Stars finals 2020 is coming up in November! To support these players, there are going to be exclusive offers available. First is Challenger Colt. This skin just looks amazing from the start! Also, there are going to be bunch of limited pins. The income from these offers will support the Prize Pool of the championship, 1 million dollars!
Teleporters
There is a new obstacle/object being added to the game, called teleporters. These teleport you to the same color teleporter in instant. You can see the example in the Brawl Talk linked below.
Graveyard Shift
Graveyard Shift (Life Leech) is being added back to the game! This is a game mode where you lose certain amount of health per second and to gain the health back, you have to attack other brawlers. This event was in last Brawl-O-Ween, and it was very much fun!
New Gadgets
They are also going to add 10 more new gadgets to the game! Be sure to turn on the notification for the Brawler Build articles.
Season 1 Rewards
Season 1 Rewards are going to be automatically collected after season 3. So make sure you open them before anything! You can use them to unlock the new brawler, Amber.
Map Makers
A new system called Map Maker is also going to be added to the game. This is a system where you can make your own map. To learn more, type #BrawlMaps in YouTube and you will see more content about it. For now, know that this will be added in one of the tabs and probably, you can post this so that people can vote maps that they like.
When will this Brawl Stars update drop?
The update will probably drop on October 20th, 2020, as many people were pointing that the pointers in the WKBRL might mean that. However, most likely, it would be dropped on October 19th, 2020, on Monday. Amber will be available the day after the update drops. Also, there will probably be one new gadget every week.
Thank You for your time! I hope you are as hyped as me for this update! Look for "How to Play Amber," and Brawler Build articles. Until then, peace!
Watch Brawl Talk
ALSO READ: