In this guide, let's talk about the best tricks experienced Brawl Stars players always use while playing to actually win more.
Some of the tricks are pretty easy to learn while some others need time to be mastered. But believe me, after reading this guide, your game play will be significantly improved!
Top 10 Advanced Tips for Experienced Players
[toc]
Teasing
---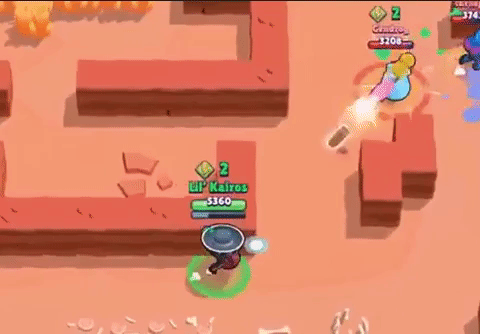 Teasing is where you almost come out from a wall but before you do so, you stop right before the enemy player could actually hit you.
Oftentimes, the enemy player will actually shoot of a shot towards that corner, which will obviously miss you because you will still be hiding behind the wall.
This is a great thing to do especially when you are really needing to heal up or recharge your ammo.
This will also waste their ammo and restart their healing clock, giving you a chance to come back out from behind the wall when you are ready when they are still healing up and don't have any ammo to take you out!
Poking and Kiting
---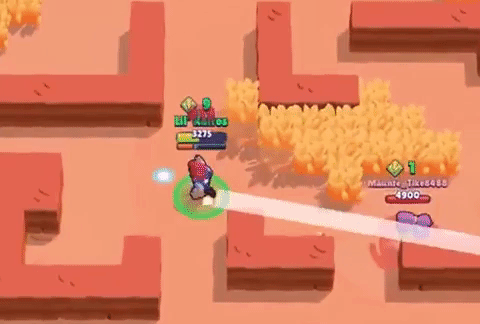 Poking is when you move up to attack fire off a shot and then fall back. You are closest to the enemy player only when you are firing off your attack. Ideally, you will just actually fall out of range of their shot so that you can actually hit them but they won't be able to hit you.
Kiting is very similar except that you don't move forward to attack, you are just falling back while you are attacking and they are chasing you. Due to the travel time of bullets, you can avoid damage while dealing damage to them because they are moving towards your bullets and you are moving away from them.
Although Brawlers like 
Bo or 
Leon can be more effective up close against most Brawlers, there are some interactions for them where kiting is very beneficial.
For example, in a Leon vs Leon or Bo vs Bo matchup, the one who is chasing will take more damage than the one who is kiting.
Dancing
---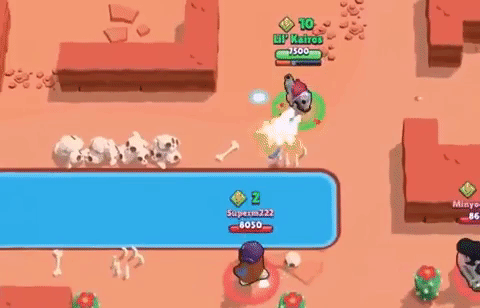 For certain brawlers that shoot multiple wallets over a period of time like
 Colt,
 Leon,
 Pam or 
Ricochet, dancing is an incredibly important skill to increase the amount of damage you can deal.
For Brawlers like this, when you are facing off an enemy player, they will often side set to the left of side set to the right to try to avoid as many bullets as possible.
Dancing is when you follow their movements patterns exactly so that as many bullets still actually hit them as possible.
You can use this to sweep your bullets toward an enemy brawler if your initial aim is slightly off. Or even if you want to try and push and enemy Brawler towards a specific direction.
This does require you to pay very close attention to the enemy player and for you, to have fast enough reflexes to follow their movements relatively closely.
Peeking
---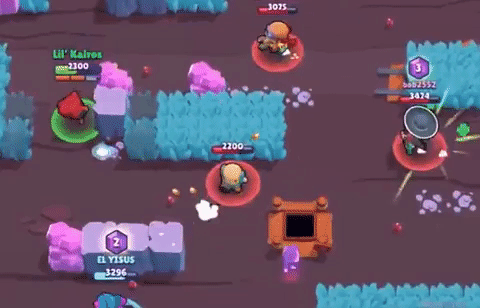 For Brawlers that attack with one quick animation for their attack like Neta, Jesse, Brock, etc., peeking is a very effective way to deal damage to the enemies without taking damage to yourself.
This is where you peek around the corner of a wall quickly fire off a shot and then hide back behind the wall so the enemy player can't hit you.
When you first start to practice this, you will probably fire a few shots at the wall, but if you ca master the skill, you can avoid so much damage because then the enemy player is going to have to rely on perfect timing to take you out. And you can use teasing to make them waste ammo.
Harassing
---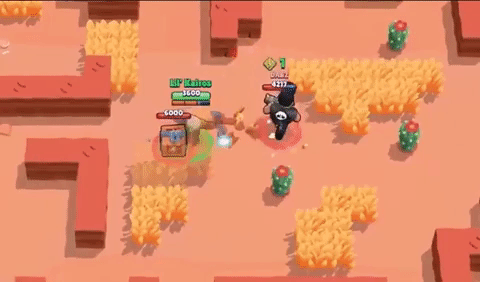 Harassing is when you continually deal at least some small amount of damage to prevent an enemy brawler from healing back.
This forces them to fall back for long periods of time so that your team actually has an advantage.
Sometimes, if you do it right, you can harass someone so much that you keep them out of battle longer than if you had taken them out. And they have to come back to the respawn zone to heal up.
Though it's a lot more effective for you to just take out an enemy Brawler because then you don't have to pay attention to where they are at or worry about them firing off at you, and you can help your teammate with a 2v1 matchup.
Pinching/Scissoring
---
Pinching is when you and your teammate corner and enemy is between you two.
Scissoring is when you and your teammates are fire off against an enemy opponent from different angles so it's a lot difficult for them to avoid your shots.
Pinching and Scissoring become incredibly important in competitive marches where players are very good at staying alive for long periods of time due to their defensive gameplay.
To get kills, competitive players typically have to take advantage of an enemy player falling back so that they can 2v1 either by scissoring or pinching off an enemy brawler.
Spawn Trapping
---
This is when you and your teammates apply a lot of pressure close to the enemy side of the map so that they cannot get out of their spawn area.
Typically this is done with three brawlers that have high map control where there are very few chokes that players can actually use to escape.
Players have the best advantage when they have room behind them so that they can kite and poke their shots. And spawn trapping them forces them into a corner which removes a lot of their movement options.
My one suggestion for you is to be very careful when you are spawn trapping an enemy team because if you are not very careful, they can take one of you out and flip the table.
Baiting
---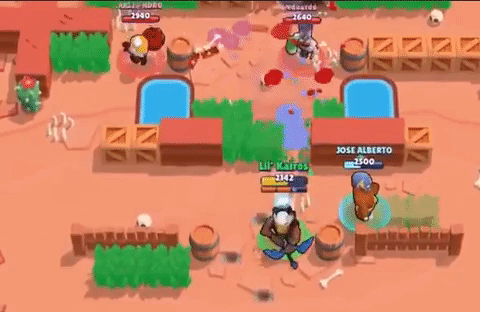 Baiting is when you purposefully fake weaknesses like you are falling back because you have a low amount of HP, close to where your teammate is hiding in the bush.
Ideally, the enemy player will chase after you and then your teammate can come out of the bush and just blast them in the face.
If the enemy team is not falling for it, you may want to give up because it will waste a lot of time.
And as a side note, you can also bait the opponents going to the Bo's Super.
Flanking/Ganking
---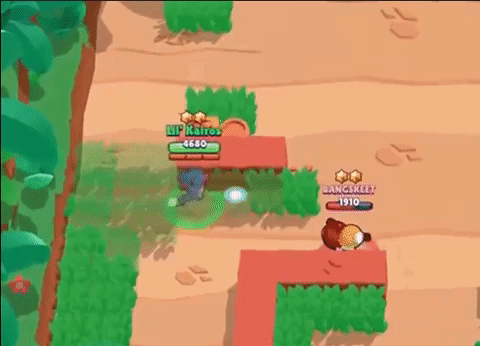 This is when you sneak up to the sides of the enemy player or you actually get behind them by using the bushes or just like when they are not paying attention. And then you come to attack them when they are not expecting it.
If the enemy team is paying attention and they know that you are there, coming from different directions, force them deal with you or fall back until they can deal with you.
If they are not paying attention, there is a good chance you will be able to corner them or catch them off guard with a Shelly super.
Juking
---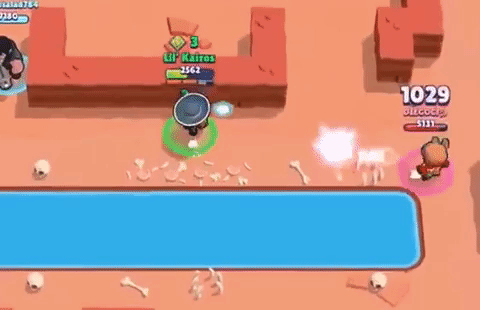 Juking is an essential skill in Brawl Stars where you seemingly walk in random direction so it is super hard for the enemy Brawlers to hit you.
Experienced players will pay attention to the enemy juking patterns and actually adapt to that.
Advanced players actually have some different juking patterns to switch around, making it harder to predict the moves.
This help you not taking damage and also waste the opponent's ammo.
Video