You guys would have seen the recent announcement by the brawl stars team about the BRAWL STARS 2020 WORLD CHAMPIONSHIP. We will see more about the steps involved later in the article, so stick on! There is literally a prize pool of over $1 Million and up to $500K added to the prize pool for every dollar spent by the community on the shop offers during the championship season. Isn't that sick?
The best part about this whole thing is everyone in the world can compete for participating in the championship, Yes! You too. All you have to do is win the 15 Win challenge. And I believe you can if you read this article.
HOW IT WORKS?
Basically, all you have to do is win the 15 challenge for getting selected for the 2020 BRAWL STARS WORLD CHAMPIONSHIP. Well, that isn't an easy job though. Millions of players are going to be competing in the championship where the list includes professional brawl stars players. Who knows, you may even face them in one of your matches!
The 15 wins are divided into 5 different game modes, namely all the active 3v3 game modes:
Also, you have only three lives. The second you lose your third game, you're out of the championship. You would be playing three games on a single game mode.
This challenge starts on Saturday 11th of January 2020, so do not miss it out.
Check out more detail here.
HOW TO PLAY?
You could have realized by now all the game modes are the most classic ones. Which means you are going to require a talented team to win. You can also play with randoms, but if you really want to win the championship, playing with randoms is not recommended. We also are not sure if it is possible to only use maxed brawlers for the challenge.
This change could be balanced, but at the same time, affect f2p players.
Get a very strong team combination for every single map and plan accordingly. Don't forget to checkout Kairos for the best comp for every single mode.
Remember these are monthly challenges, so don't worry if you lose, you can always try one more time.
GAME MODES AND MAPS
GEM GRAB
HARD ROCK MINE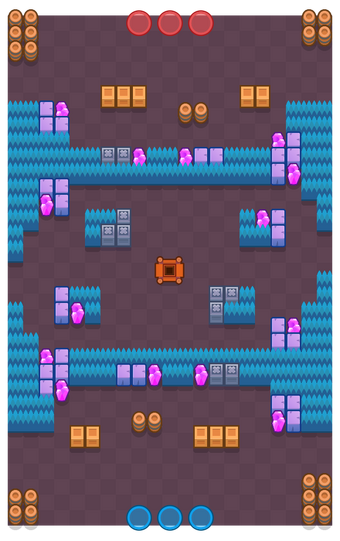 This is a good map for medium-ranged brawlers like Colt and Jessie.  You could try to open the map more with your super. Always have gem carrier in your team comp like a Pam or a Poco. Use tanky brawlers like Bull or Primo in this map. Sneak into the enemies bushes and you can spawn trap them. It's very difficult to come out of a spawn trap when you are in one. Leon can be devastating here.
TEAM COMPS
Pam, Leon, Tara
Poco, Darryl, Rosa
Jessie, Brock, Shelly
Pam, Darryl, Sandy
BRAWL BALL
CENTER STAGE
This is an excellent map where melee-range and medium-ranged brawlers flourish. Colt and Shelly are extremely good in this map especially if you hit your shots. Don't try to use Mortis here, as many people tend to use shot ranged brawlers and Shelly which can hard counter you. Auto aiming could leave you in a really bad situation especially in brawl ball, use the best comp which consists of  a
HIGH DPS UNIT
CONTROL BRAWLER
BALL CARRIER
TEAM COMPS
Jessie, Colt, Darryl
Shelly, Pam, Rosa
Sandy, Poco, Darryl
Leon, Poco, Rosa
Rosa, Darryl, Poco
Bibi, Darryl, Pam
BOUNTY
CANAL GRANDE
This is an awesome OG map which is also my favourite. One of the maps where even short-range brawlers were also used extensively. Mortis and Shelly are everywhere in this meta. If your a long-range brawler, don't go inside the bushes alone even after checking it and try to clear all the bushes as soon as possible so that you could snipe all the short rangers. If you are a shot range brawler yourself, be sneaky and kill the brawler before they try to open the maps and bait their super.
TEAM COMPS
Piper, Brock, Penny
Mortis, Piper, Pam
Bea, Piper, Pam
Leon, Piper, Pam
Darryl, Poco, Rico
HEIST
TORNADO RING
This one was the one of the most popular new maps and has a lot of different strategies. A lot of throwers are used in this map. Long-range brawlers can be used here. Bull with Rapid reloads star power is gonna be very valuable here especially with a Poco in the comp. Try and dodge as many shots as possible if your a tank and get your team sniper to kill them and charge over to the vault. If your a medium or longed brawler, clear all the obstacles with your super but don't do that if you have a bull in your team!
TEAMP COMPS
Bull, Darryl, Rosa
Primo, Bull, Darryl
 Bull, Brock, Rico
Jessie, Brock, Bull
Pam, 8 bit, Darryl
SEIGE
SOME ASSEMBLY REQUIRED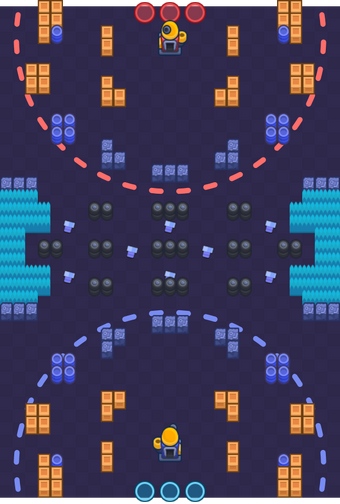 This was the first map when Seige was introduced. It has a lot of obstacles, so do not use long-ranged brawlers like Piper, but you could still use brock. Try to clear the obstacle if your team has enough range. Aim your shots and try to trap the enemies within there area and constantly chip them down. Don't worry if you miss your first bot, Try to control the area which is more important.
TEAM COMPS
Jessie, Leon, Brock
Pam, Leon, Carl
Colt, Brock, Rosa
Carl, Jessie, Darryl
REWARDS
Well there are also rewards for winning every single game, isn't that quite sick. But the best part is what rewards they are.
GEM GRAB
1 WIN – 10 STAR TOKENS
2 WIN – 10 STAR TOKENS
3 WIN – 100 STAR POINTS
BRAWL BALL
4  WIN – 10 STAR TOKENS
5 WIN – 10 STAR TOKENS
6 WIN – 200 STAR POINTS
BOUNTY
7 WIN – 10 STAR TOKENS
8 WIN – 10 STAR TOKENS
9 WIN – 300 STAR POINTS
HEIST
10 WIN – 10 STAR TOKENS
11 WIN – 10 STAR TOKENS
12 WIN – 400 STAR POINTS
SEIGE
13 WIN – 10 STAR TOKENS
14 WIN – 10 STAR TOKENS
15 WIN – 500 STAR POINTS
In total, you receive 100 star token literally. That's 10 Big boxes or 3.3 Mega boxes for free. Isn't that insane? And for an add up we also get 1000 star points. Even if you can't reach 15 Wins, you can still enjoy your star tokens. Good luck getting a legendary!
END
This article was written asap to give you guys the best information and maps and brawlers for winning the championship. Hopefully, you guys learnt from this.